Zelie inaugural bed race fun, successful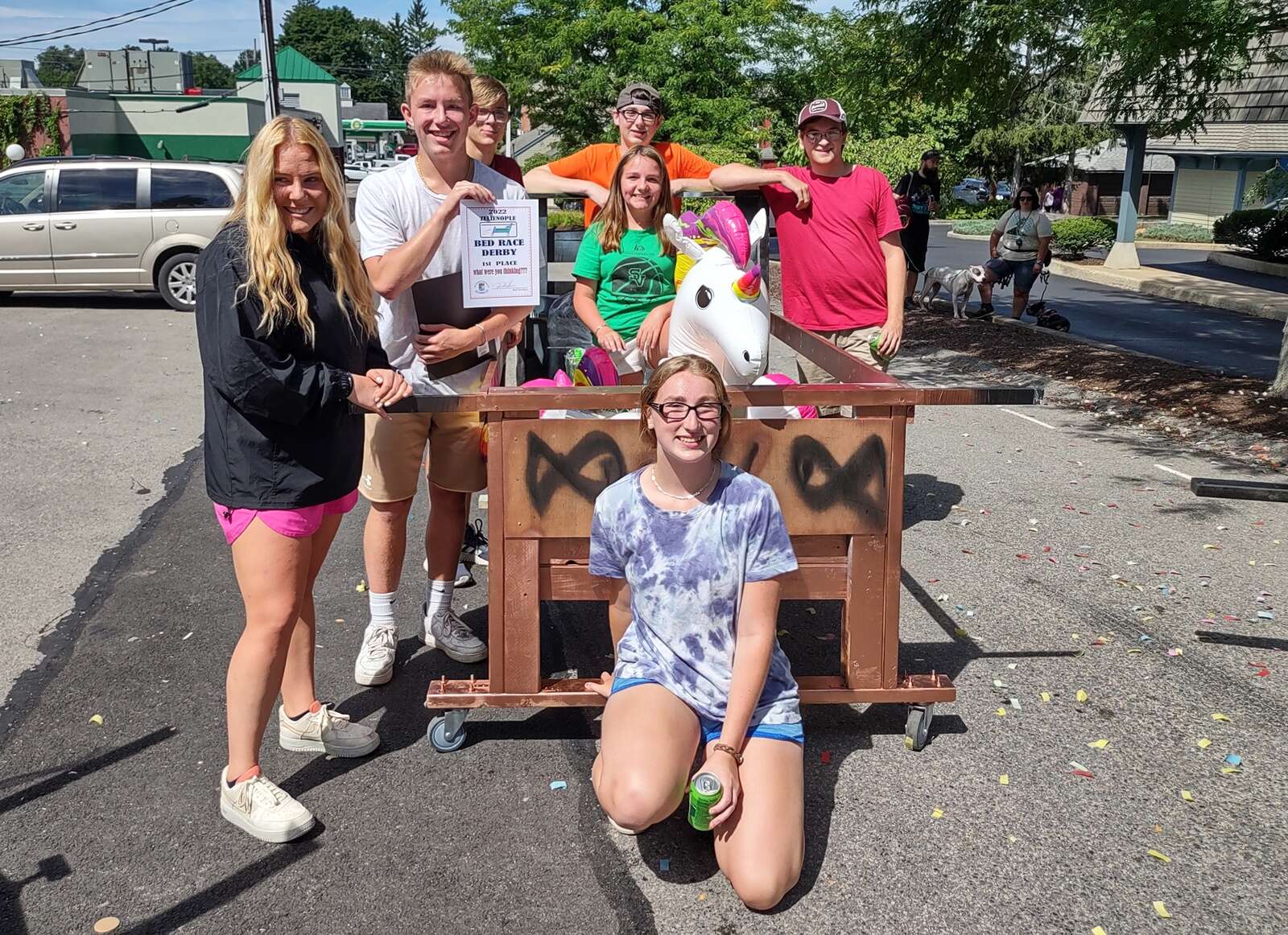 ZELIENOPLE — A comfortable bed is a key ingredient for a good night's sleep.
A small bed with wheels and no mattress can be pushed a block in about a minute.
The borough's first bed race, which raised money for the Zelienople Area Public Library on Saturday, was a success and will help Mayor Tom Oliverio, who came up with the idea for the race, make next year's event bigger.
"We're really pleased with the way it turned out and the people who turned out to support it," said Amy Kellner, the adult service librarian at the library.
Three teams competed in the race on High Street, and a young team representing the Harmony Zelienople United Methodist Church took first-place honors. Oliverio built the bed for them, and they named it the Flying Unicorn after the inflatable unicorn that went along for the ride.
Five officers from the borough police department and members of Pennsylvania Connecting Communities comprised the other teams.
Each team was given two chances to push their homemade, decorated beds one block up the street and back.
"It worked out perfectly. We raised money for the library, which was the goal, and the weather was perfect," said Jason Sarver, the borough code enforcement officer who helped with the event.
Oliverio said he got the idea for the race after seeing one in Wisconsin while he was visiting his daughter there two years ago. He said bed races are an annual event there and in other places across the country.
He said there is already interest in next year's race.
"Next year, I'm sure it will get bigger. It seemed like everyone had fun," Oliverio said.
He said he will begin planning next year's event in two or three weeks. Any organization, church or business in the county is welcome to participate, he said.
"It's for everybody," Oliverio said. "It brings families together and it's fun."
Police officers Bret Myers, Mike Petrie, Steve Gilbert, Tom Goldic and Sgt. Kevin Mikulan formed a team and made a race bed with emergency lights on the headboard and a police shield on the foot board.
"It was an idea the mayor brought up, and the chief agreed. It's a nice way to get involved with the community and have fun doing it," Myers said.
More in Local News