Antique gun show brings enthusiasts to Harmony
HARMONY — The number of people who revere the earliest American firearms seems to be declining, but a dedicated few made their annual pilgrimage to the borough to show their collections.
The antique gun show Saturday at the Harmony Museum featured old guns that are meant to be treasured rather than fired and other early American artifacts.
"I recommend, and most collectors will recommend, you don't fire an antique gun," said Ed Rayl, of Gassaway, W.Va., who makes custom and replacement barrels, locks and other metal parts for old guns. "If I break (a part) on one of these, it has to be made."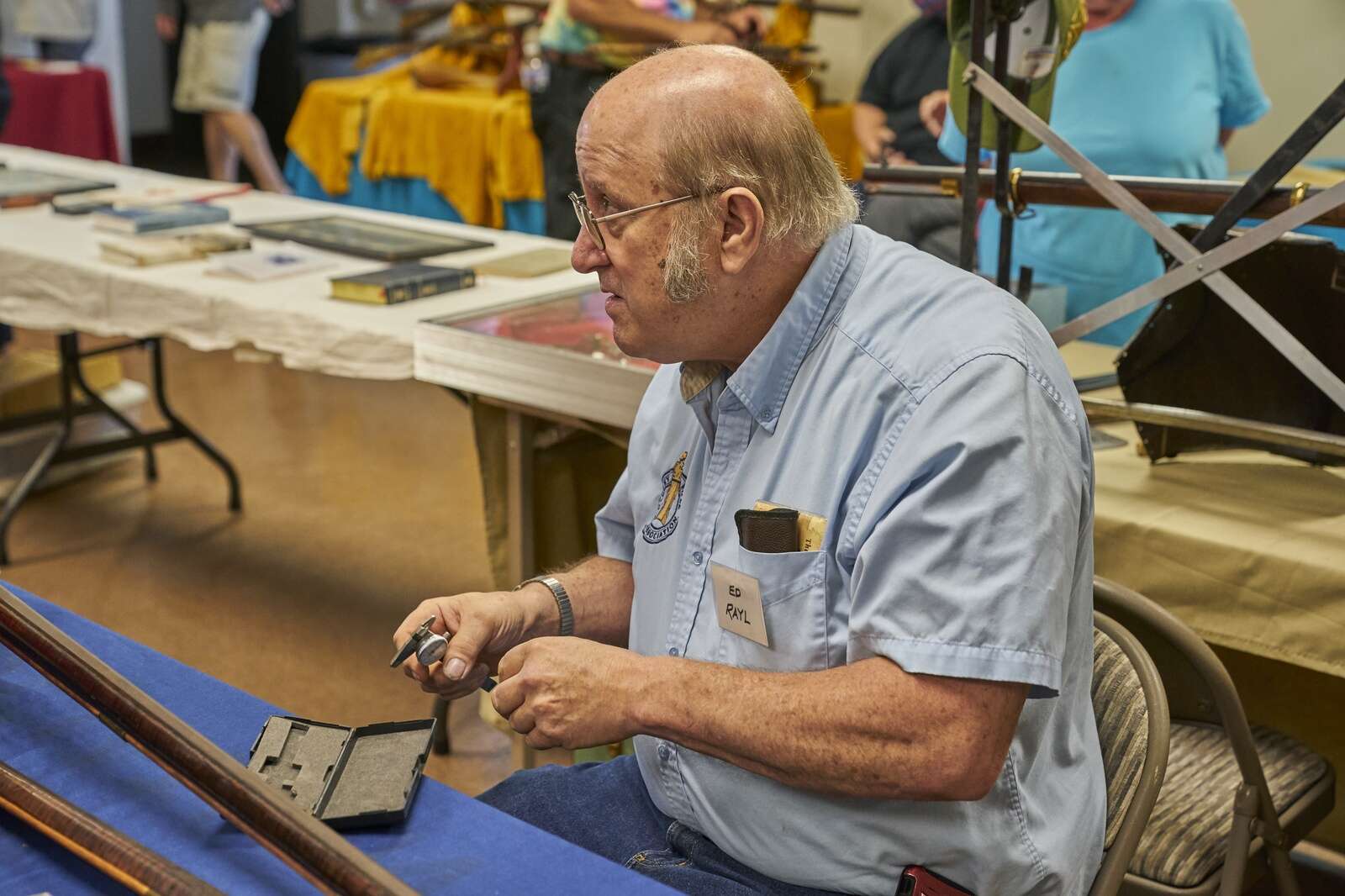 The guns he brought to the show included a .45-caliber flintlock rifle made by Henry Mauger, of Douglas Township, Berks County. Rayl estimated the gun was manufactured between 1790 and 1800.
A caplock rifle dating 1890 to 1900 made by an unknown gunsmith, barrels, locks and other parts also were spread out on his table inside the museum.
Rayl said antique guns are not rare. Old firearms that have been held for generations by families and few people knew existed frequently come up for sale at auctions and estate sales.
However, it can be difficult to find one produced by a specific maker, he said.
"I enjoy coming up here and seeing what other people have. It's a nice group of people to associate with," Rayl said.
He attends a number of shows and considers collectors who he regularly sees as family. Most collectors have expert knowledge of antique guns and enjoy talking about them, he said.
Through research, some collectors know more about 19th and early 20th century gun makers than the makers' decedents do, he said.
Antique gun shows give people the opportunity to handle early firearms that could have been used in historic battles, instead of just looking at a picture of one, he said.
Entwined with history, antique gun collecting is a great hobby that Rayl wishes more people under age 50 would begin to appreciate. There are many antique gun clubs or associations that would love to have more members, he said.
"We're always happy to see new faces," Rayl said.
An event organizer said attendance at the gun show has been declining for years as the age of those who attend rises. In its heyday, the show attracted more collectors than the museum could hold, and some were turned away.
Guns weren't the only early American artifacts that were on display.
A table full of ornately decorated moccasins, vests and headdresses, as well as bows and arrows, shields and other original artifacts dating to the 1890s from the Lakota Sioux tribe in South Dakota showed another side of early America.
John Connolly, of Mt. Lebanon, Allegheny County, who teaches at the Pine Ridge Sioux reservation in South Dakota, brought the Native American items. He said tribe members sent the artifacts to his uncle a long time ago after visiting them.
His uncle became enthralled with Native Americans after attending a Buffalo Bill Wild West Show in Washington County in 1898 where he met some tribe members, he said.
Connolly, who retired from the Pennsylvania Historic and Museum Commission after 33 years, said his uncle later traveled to South Dakota and told him that he met members of the tribe who fought against Lt. Col. George Custer at the Battle of Little Big Horn.
The tribe sent the items to Connolly's uncle because they became antiquated after the tribe was moved to the reservation, where they changed from hunters to farmers.
The items were in storage from 1960, when his uncle died, until 1976, when he obtained them.
"They were primitive people, but they made elaborate and decorative clothes," Connolly said.