Most county school districts return to charging for lunch
Meal Plan
Families still can apply for free, reduced-price meals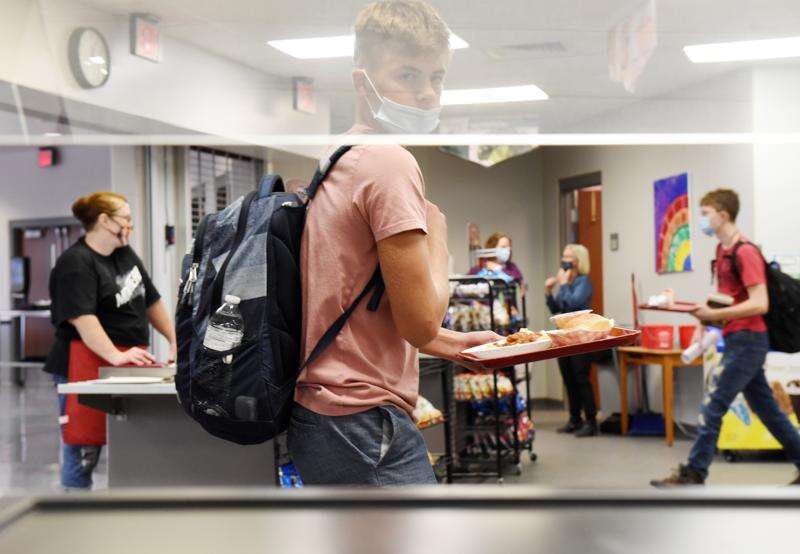 Grabbing a bite to eat at school will get a little more complicated for families starting this year.
Over the past two years since the start of the COVID-19 pandemic, a series of waivers from the federal government have made school lunches free for all students. Those waivers expired on June 30 — meaning that for the 2022-23 school year, parents will once again need to pay for lunches.
The method of application varies slightly by district, but all districts in Butler County participate in various versions of the Free and Reduced Lunch program. Applications for the program typically can be submitted online or on paper.
Children in households receiving Supplemental Nutrition Assistance Program (SNAP) or Temporary Assistance for Needy Families (TANF) benefits are eligible for free meals; as are foster children; children participating in their school's Head Start program; and homeless, runaway or migrant children.
Children may also receive free or reduced-price meals if their family's household income is within the limits of the Federal Income Eligibility Guidelines. According to federal guidelines for a family of four, if the family's gross annual income is $51,338 or lower, they may qualify for free or reduced meals.
Different policies
Schools tend to have different versions of their online payment programs, but for most schools, parents can input funds into an online portal, or send cash or checks in with their child to add funds to their account.
"Seneca Valley accepts payments for school meals through the myschoolbucks.com online payment service. Parents can also use the service to monitor, for free, their child's food purchases," explained Linda Andreassi, Seneca Valley communications director, in a statement. "There is no fee to use MySchoolBucks to set up an account and view meal purchases, balances, and to set up automated email notices when a child's meal account falls below a dollar amount specified by the parent. There is a fee if a parent/guardian is using MySchoolBucks Service to make an online payment."
Families will need to re-register in order to see if they qualify for the free or reduced meals program. That program is typically annual, so families would have needed to renew their application each year either way. Many families still applied during the first two years of the pandemic as the benefit can be a window to other assistance programs.
At Butler Area School District, director of communication Kara Droney said that 49.86% of district families applied and qualified for free and reduced meals in 2021-22. Before the pandemic, in 2019-20, 46.42% families qualified. As of Aug. 1, 46.30% of families in the district qualified.
Droney clarified that while the district is switching to a new food provider, Aramark, the prices of lunches and breakfasts have not changed from their pre-pandemic costs. Breakfast is 30 cents for the reduced meal price district wide, and $1.25 full price district wide. Lunch is 40 cents for the reduced meal price district wide, $2.25 at the elementary level and $2.50 at the secondary level.
Some food still free
Lunch will still be universally free in some locations. Students at Broad Street Elementary, Emily Brittain Elementary, McQuistion Elementary and Center Avenue Community schools in Butler Area School District will all receive free lunches this year.
The Community Eligibility Provision program, a non-pricing meal service option for schools and school districts in low-income areas, allows those four schools to serve breakfast and lunch at no cost to all enrolled students without collecting household applications.
"We encourage all families to apply for free/reduced meal status, as your student(s) will be eligible for other school and community benefits based on their status," superintendent Brian White said in a letter to families. "Several school programs are available at a free or reduced rate based on your family's meal status. This includes AP tests, athletic programs and summer school, just to name a few. In addition, the P-EBT card is based on your family's free/reduced meal status."
The entirety of Moniteau School District also qualifies under the Community Eligibility Provision, said Carrie Plecher, food and nutrition services director.
"Each child who is enrolled in the school building will qualify for one free breakfast and one free lunch every single day," Plecher said. "They will still have to purchase if they want to buy an extra pizza or extra burger; if they want to buy extra food or snacks, they do have to pay for that."
Plecher hopes the program will help families get food easily.
"We have economically disadvantaged children, and while the lunches and the breakfasts were free, we saw an upturn in the number of meals that we served," she said. "I believe that that will continue now, because the families are happy that they're free. They're able to feed their kids at least two meals a day, for free."
Anticipated changes
Families can apply at any time of year for free and reduced lunches, said Kim Fitzgerald, Knoch School District intermediate school principal and food service coordinator.
"(They can apply) any time they feel that there is a change in income. It doesn't have to be just a beginning-of-the-year event," she said. "Even during the pandemic, people applied, because there are other benefits. I always encourage families to apply. Everybody should just apply every year anyway."
Like Plecher, Fitzgerald says she saw an uptick in usage of the school lunch program during the past two years.
"More students were eating the school lunch during the time it was free for everyone," she said. "Beforehand, a lot of kids packed, so I don't know what to anticipate this year. I'm hoping that because kids got used to the nice hot meals that we have, they'll continue to do that."
School lunches are particularly beneficial, Fitzgerald said, because of their specific nutritional guidelines.
"The nutrition company has to follow nutritional standards, because there is a balance nutritionally, what the students should be getting at that particular age," she said. "There's more opportunities for fruits and vegetables, which sometimes, as a parent, was kind of a harder to pack thing for me. There's more variety for students to choose from. A hot meal sometimes fills your stomach better than a sandwich."
The district has communicated with families about the program through their online portal and through email, but will reach out again to any families who previously qualified for free or reduced lunches but didn't apply this year.
At Moniteau, Plecher is already looking ahead to the upcoming school year. Inflation and supply chain issues, she says, may prove disruptive again for school lunches.
"Our department is running smoothly. I am anticipating supply chain issues just like last year, but I am praying that it won't be bad, and praying that I can arrange things like we were able to last year," she said. "That's just a waiting game to see about that. Inflation is scary, yes. Prices are just skyrocketing, so that's worrisome also."