PulpFest brings action-packed genre history to Cranberry
CRANBERRY TWP — When Jack Cullers was a young boy, he often watched his father reading tales of cowboys and Westerns printed on thin, rough paper.
"It's the stuff my father used to read, and he told me that they came from pulps, so I started figuring out what pulps were," Cullers said.
That childhood interest drew Cullers to his longtime passion for collecting pulp magazines — fictional periodicals named after the cheap pulp paper on which they're printed. Today, Cullers is chairman of PulpFest, a convention that celebrates fans of pulp magazines and offers collectors a chance to get their hands on rare titles.
PulpFest is currently running at the DoubleTree by Hilton Hotel in Cranberry, and will continue through 2 p.m. Sunday. Single-day tickets on Saturday are $20 apiece.
The event is celebrating its 50th anniversary, and its fifth year being held in Cranberry Township, Cullers said.
"We're probably going to get something around 400 to 500 (people)," Cullers said. "We have dealers from all over the country."
Over 80 dealers are attending the event, along with modern comic book artists, writers, and collectors. Many pulp enthusiasts attend similar events across the country, Cullers said.
"It's stuff that crumbles very easily, from the 1920s, '30s and '40s," Cullers explained. "Some of them are rare; some are not. You can usually tell by the price. The condition has a lot to do with how much they're worth."
Speakers on the history of pulp magazines will present evening programs, which are free to explore even if you haven't purchased a ticket. An auction will also be held later in the day on Saturday.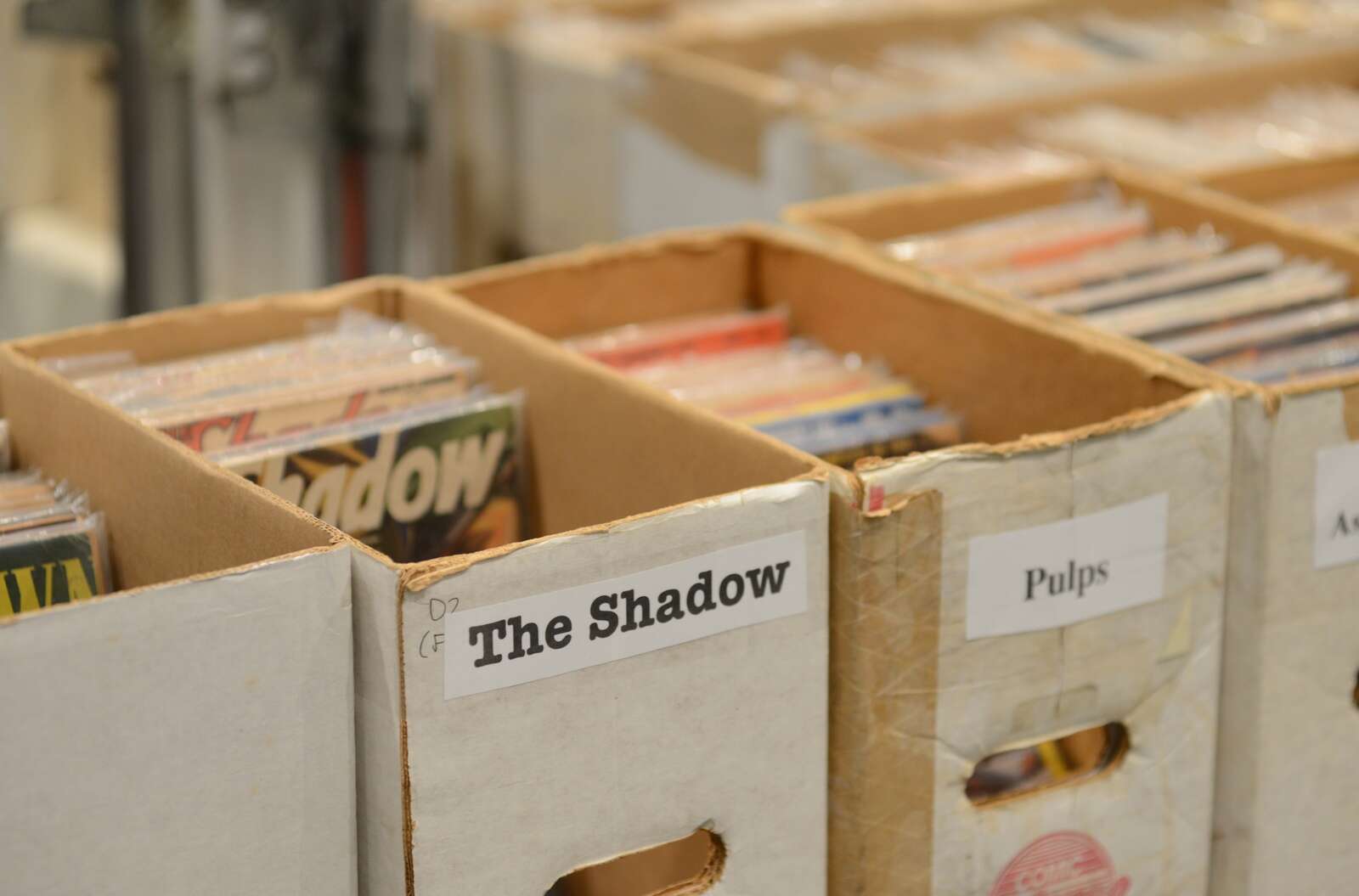 History of mystery
Some visitors to the convention came to browse the stacks, but others had specific finds, characters or a series in mind.
Visitor Steve Dotterer said he collects issues of "The Shadow," a detective crime-fiction pulp magazine from the 1930s.
"He's kind of the precursor to Batman," Dotterer said. "The stories are really good, though. I've been looking for this one for a while — it's hard to find."
Dotterer's interest in pulps grew from his interest in collecting comic books, he said.
"Since Batman is my favorite comic character, I kind of worked my way backwards, and you couldn't have Batman without The Shadow," he said. "A lot of these are available as reprints and photocopies, but it's really hard to get the originals, because people tend to hoard them. The pulp paper is really thin. Comics tend to be a little better paper quality. They were able to mass-produce it on the cheaper paper, but not a lot of them survived in very good condition."
Dotterer bought his comic at the booth of John and Maureen Gunnison of Adventure House Auctions, collectors from Maryland.
"Some of these books are very hard to find," Maureen said. "They collect them for the art, for the covers; some collect them for the authors. Some are just readers and want to buy a reading copy, and now there's so many reprint copies out there, because people don't want to touch these, because they're fragile."
Some comics are bought for the purpose of display, she added.
"Everyone collects for different reasons," she said.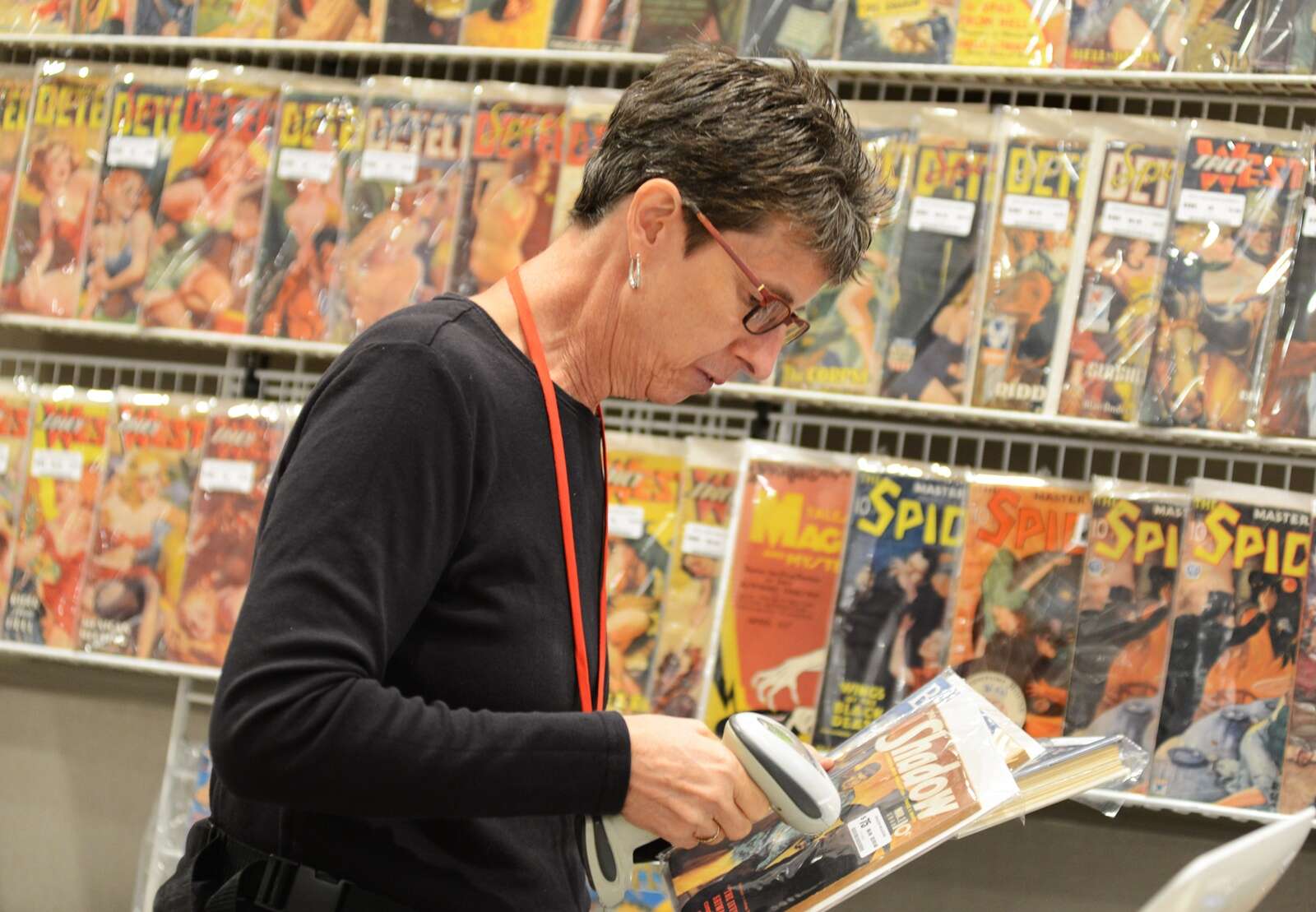 Extensive collections
Todd McDevitt, of New Dimension Comics with stores in Butler and Cranberry, said the convention is a magnet for those interested in buying pulp magazines.
"When we get the kind of stuff that this venue and this audience wants, we just kind of squirrel it away for a year and bring it here," McDevitt said. "Sometimes, a collection will be comics and toys, or maybe something else, but if it's got something like this, we try to curate a little selection for this event. It's our once-a-year, annual event to get them out there and get them new homes."
Not all of the magazines are expensive — some went for as low as five or ten dollars, he added.
McDevitt said the event has had a good turnout so far.
"It's such a unique thing and a specific thing, and the fans are so die-hard about it, even though they've been collecting it, for some of these guys, decades," he said. "They are just so into it, and there is so much of it, but a lot of it is tough to get."