4-H'ers ready livestock for Farm Show
4-H participants put in the work every year to raise their animals, learn about agriculture and complete their project booklets, and the Butler Farm Show is the culmination of their efforts.
The farm show board of directors has been conscientious in organizing a fun show where everyone can participate as much as possible, and board secretary Ken Metrick said things are falling into place.
"You always have some last-minute holes to fill, but we're just about where we should be," Metrick said. "Everything looks good and seems to be right on schedule."
While the board has worked on organizing the annual event, the 4-H members have been busy with their projects.
Lily Ansell, 15, said she has been in 4-H for as long as she can remember. This year she plans to take two market hogs, two market goats and five dairy cows to the farm show.
"I always really enjoy being able to work with the animals and put out what I've been working on since the springtime to other people," Lily said.
Jeff Ansell, Lily's father, is appreciative of the time he gets to spend with his daughter and the work they do together. He also said the farm show is a positive end to the projects they work on all season.
"These are yearlong projects for us. Farm show week is when all the work we put in pays off," Ansell said.
The Dupe family of Butler will also be at the farm show with their pigs, lambs and goats.
Kaci Dupe, mother of Mason, 13, Jackson, 8, and Benson, 7, said the family works on breeding projects all year. The boys spend time with their animals every day in preparation for the farm show.
"We are really looking forward to the farm show this year. It's Mason's favorite week of the year," Dupe said.
This will be Mason's fourth year showing his animals, but Jackson will be participating for the very first time.
"Everybody loves a competition," Jackson said.
At just 8 years old, he takes part in the farm chores and walks his pigs expertly from the barn, down a path to the woods and back to the barn several times a day in preparation for the show. He's said he's ready for the show and excited to take his animals into the ring.
Since Mason has been in 4-H before, he is able to show Jackson the ropes. He's also excited to show his animals, he said, and has been organizing the information for his project booklet all year.
"It's super fun to go into the show ring, and it makes me happy to show the animals," Mason said. "And it's exciting to win ribbons."
Their mom said Mason has brought home a lot of ribbons in the past, and she is looking forward to seeing how both her older boys do this year. She expects Benson to participate next year once he's old enough, too.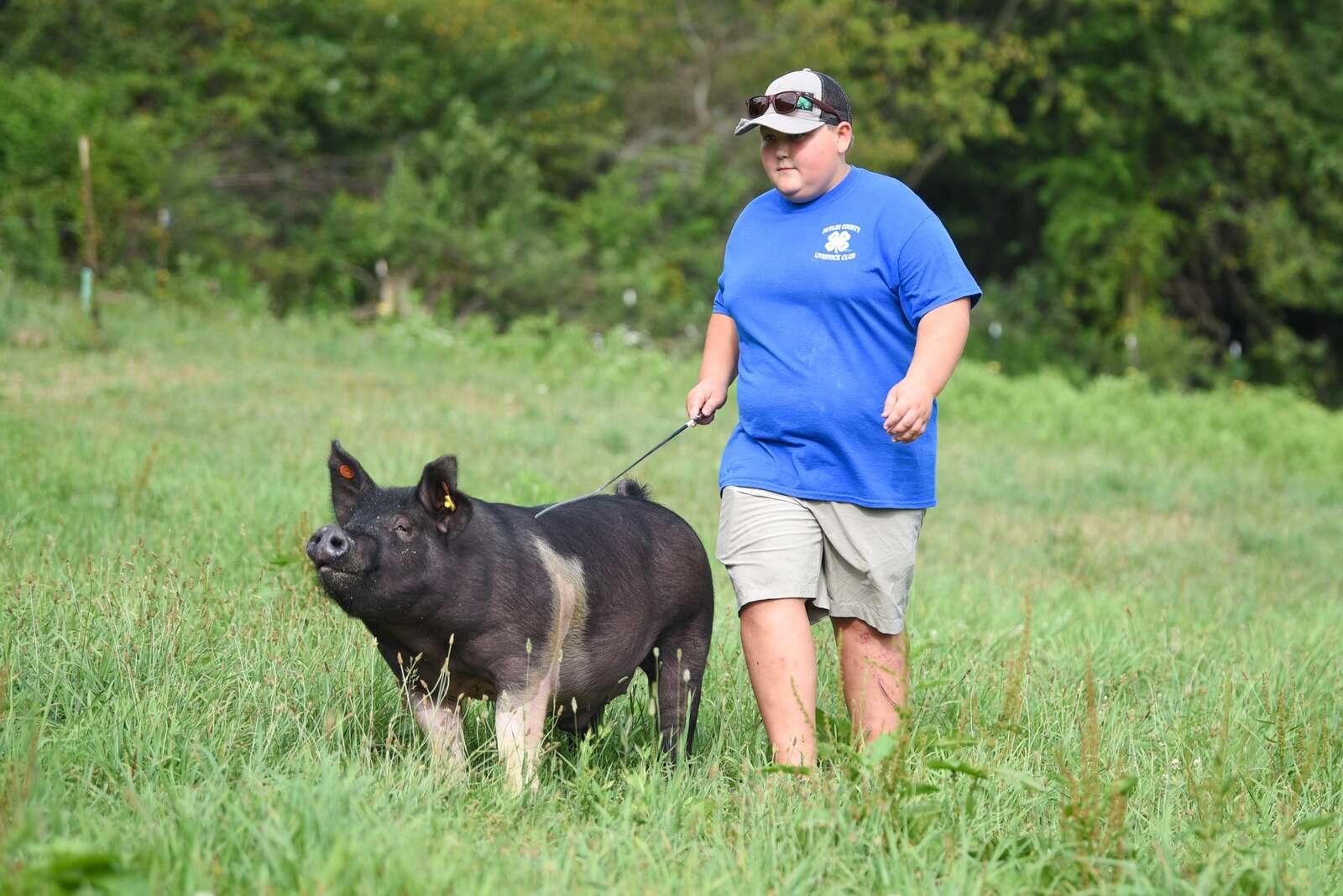 Besides agriculture and farm skills, Dupe said she believes 4-H teaches valuable life lessons in leadership and responsibility.
"The farm show is a great demonstration of agriculture in our area," Dupe said. "As far as the kids involved in 4-H, it teaches them a lot of really awesome life skills. It's like how Boy Scouts teach survival skills. 4-H teaches leadership."
Dupe is proud to have her boys participate in 4-H and is preparing for a busy and fun show week.
The Dupe and Ansell families aren't the only 4-H participants gearing up for a jam-packed week to wrap up their yearlong projects. 4-H'ers from all over Butler County and the surrounding areas will be at the show to demonstrate their work.
With all the effort that goes into the projects and planning the show, having the event and being together is what it's all about, according to Ken Laughlin, board of directors president.
"It's nice to share the agriculture with the community," Laughlin said.
STORIES YOU MAY ALSO LIKE