Megan Smith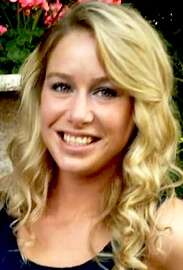 Megan Elaine Smith, 34, of Cranberry Township, passed away on Wednesday, June 29, 2022, while under the care of Conemaugh Memorial Medical Center.
She was born April 30, 1988, in Cranberry Township, the daughter of David Lee Smith and Diana Louise (Fair) Bauer.
Megan was a Seneca Valley High School honors student, where she was a member of the varsity cheerleading squad. She spent her youth competing in gymnastics and later participated in competitive cheerleading, making it to Nationals multiple times. She went on to earn her Bachelor of Science degree in business and marketing from the University of Arizona in Tucson, Ariz. She lived in Arizona for 10 years and worked for YELP, where she was promoted to senior account executive in less than a year.
Megan returned home to Pennsylvania four years ago and worked as a customer care representative. In her free time, she enjoyed camping, fishing and dancing. She also enjoyed listening to music, stand-up comedy, and watching scary movies. Above all, Megan loved hanging out with her beloved nieces and nephews. She will be dearly missed and fondly remembered by all who knew her.
We will miss her witty humor, and generous, supportive nature. Her bright smile and kind soul left everyone too soon.
Megan leaves behind to cherish her memory her father, David Lee Smith (Donna) of Cranberry Township; her mother, Diana Louise Bauer (Robert) of Butler; her paternal grandmother, Sheila Desjardins (Larry) of Holiday, Fla.; her paternal grandfather, Richard Smith (Colby) of Bradford Woods; her brother, Andrew Smith of Pittsburgh; her sister, Nicole Rice (Ryan) of DuBois; and her nieces and nephews, Cadence, Braden, Maximus and Brittani Rice.
Megan was preceded in death by her maternal grandparents, Thomas Wendall and Mary Ann Fair.
SMITH — Friends and family of Megan Elaine Smith, who died Wednesday, June 29, 2022, will be received from 2 to 4 p.m. and 6 to 8 p.m. Wednesday, July 6, 2022, at BOYLAN FUNERAL HOME, 324 E. Grandview Ave., Zelienople.
A funeral ceremony will be held at 11 a.m. Thursday at the funeral home.
Megan will be laid to rest privately at Calvary Cemetery in Butler.
Expressions of sympathy may be shared with the family at www.boylanfuneralservices.com.
To view this obituary online, please visit www.cranberryeagle.com.
More in Death Notice