Fighters celebrated, remembered at merged Relay for Life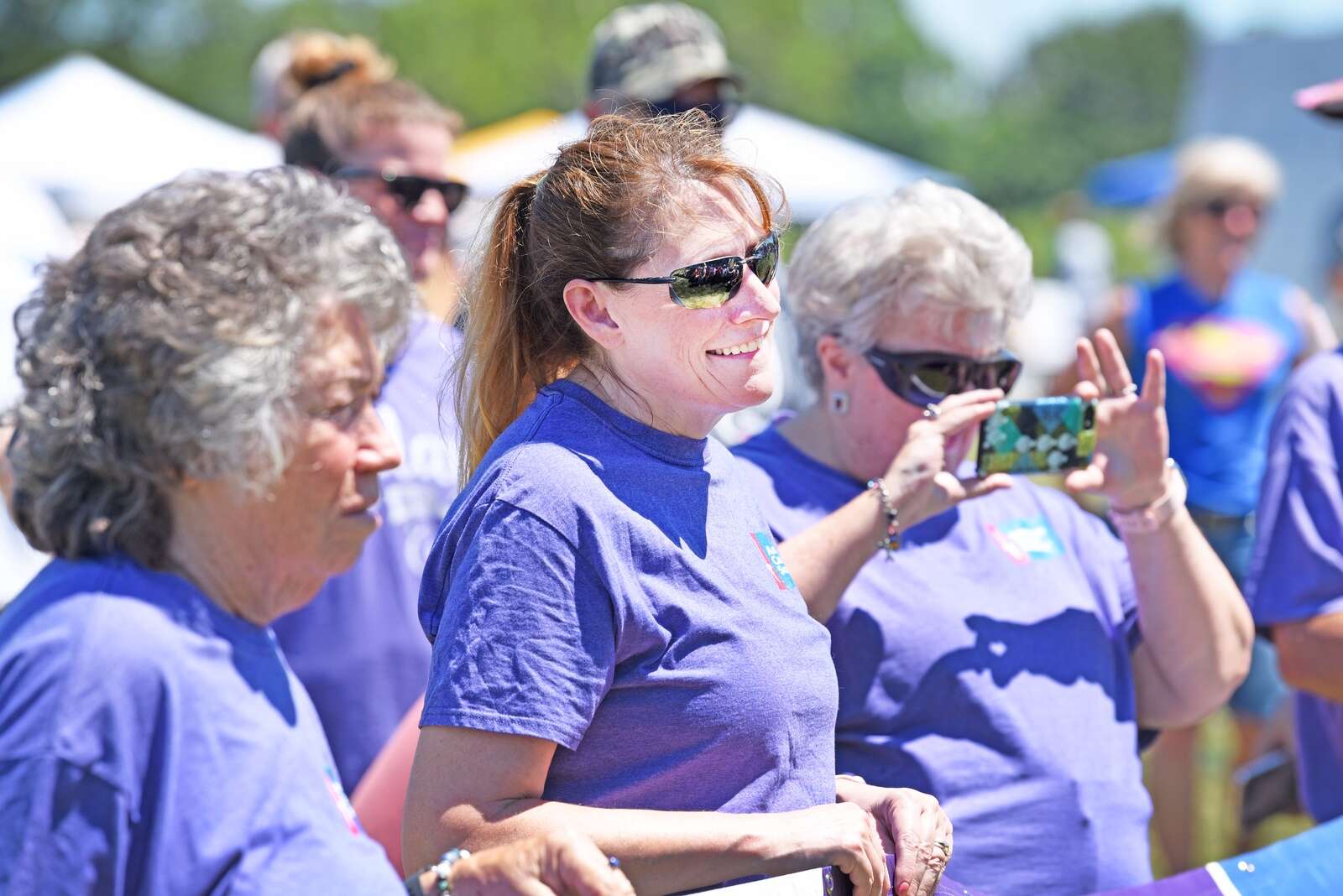 CRANBERRY TWP -- The first Relay for Life held by the merged Butler Relay for Life and Cranberry Township Area Relay for Life celebrated those who have triumphed over cancer and lovingly remembered those whose battles have ended, all while raising funds to slow the spread of the disease and help those who have been diagnosed.
Still named the Relay for Life of Greater Cranberry Township, the event was held all day and evening on Saturday on an athletic field at North Boundary Park in Cranberry Township.
Amy Fuller, Relay event lead, welcomed the survivors, caregivers, family members, donors and community members who attended the event at its noontime start.
Fuller wore the purple T-shirt afforded only those who have survived cancer treatment, explaining that at last year's Relay, she had undergone four chemotherapy treatments for two forms of breast cancer, and faced 12 more chemo and 20 radiation sessions at that time.
"I didn't have hair then, but look at me now," Fuller said as she popped off her wide-brimmed hat to display a full head of hair. "I finished treatment in November and am now cancer free."
After a hearty round of applause for Fuller and more inspirational words from her, a group of 17 survivors walked a "Survivors' Lap" around a track made for the event.
Four of the survivors held up an American Cancer Society banner that read "No one fights alone."
Those in each of the more than 20 Relay for Life team booths clapped heartily as the purple-shirted group passed, and another lap was taken by the survivors, their families and caregivers.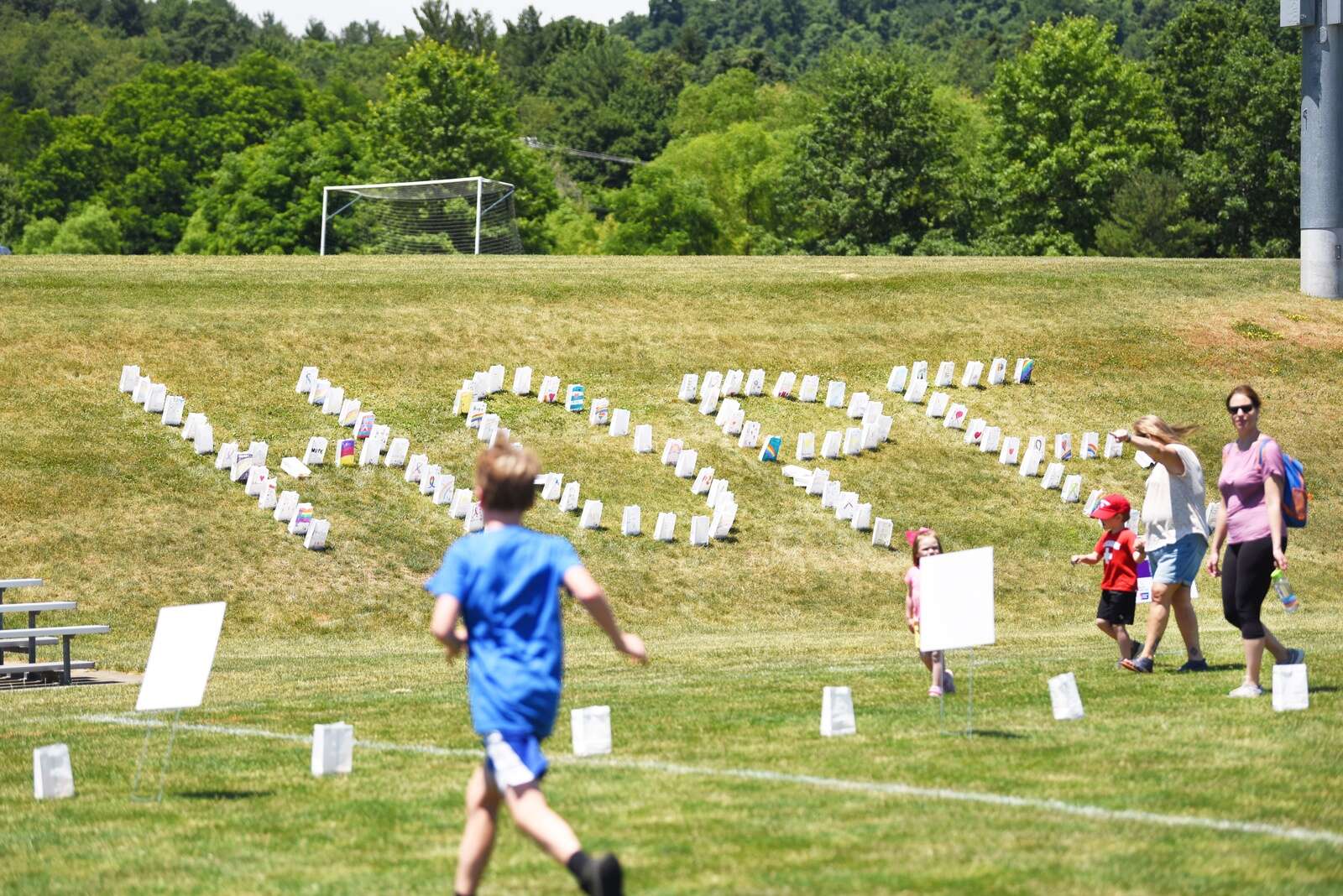 "This afternoon is to honor survivors and reflect on those who lost the fight," said Alan Wolf, Relay for Life caregiver lead and an 11-year colon and liver cancer survivor.
Fuller explained that one person from the 26 teams registered for Saturday's event would walk the Relay for Life track during the event's entire 10-hour duration, with team members taking turns walking.
"That is to represent the fact that cancer doesn't stop," Fuller said.
She said most of the teams do their own fundraising throughout the year, including a golf outing, bingo, bourbon raffle and oldies dance.
"We fund raise all year and today we celebrate and raise a little more," Fuller said.
She said the Relay for Life fundraising goal was set at $100,000, but $111,000 had already been raised by the start of the event on Saturday.
The survivors, caregivers and guests were treated to a luncheon in a pavilion at the park, and chatted with one another as they ate.
One revered survivor who has attended the last 18 Relay for Life events in Cranberry Township is Sue Grabowski, a 20-year breast cancer survivor and two-year leukemia survivor.
"I attend Relay for Life to celebrate my survivorship, remember loved ones and friends who I've lost, and to help raise funds so we can finish the fight against this disease," Grabowski said.
Her team, which was formed in 2005 at Hope Lutheran Church in Cranberry Township by Karen Johanknecht, holds a golf outing each year to raise funds for the American Cancer Society.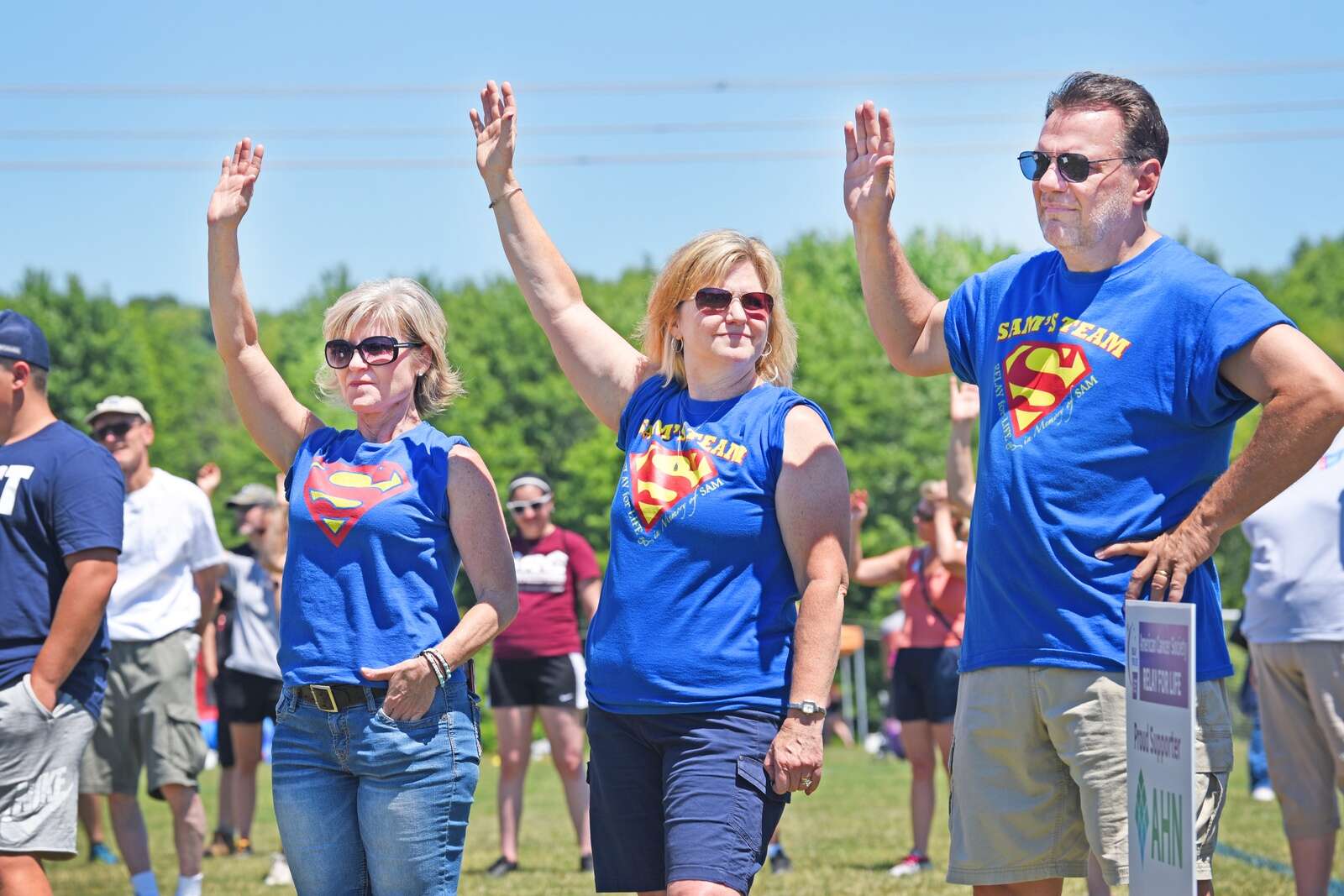 "We have raised more than $200,000 in our 18 years as a team," Grabowski said.
Her team sold hot dogs and hamburgers at their Relay for Life booth, while others sold perogies, landyards, and other foods or items.
Games, raffle baskets, music, a misting station, bounce houses by the Seneca Valley Cross Country team, a "Jail or Bail" fundraising booth, and a nighttime luminaria to remember those who have been lost to cancer rounded out the event.
Three teenage cousins dressed in blue Superman T shirts walked the track under a blazing noonday sun as members of Sam's Team.
The teens participated in memory of their brother and cousin, Samuel McConahy, who died at age 7 some 20 years ago, as well as their grandfather, John Graf, who succumbed to cancer two years ago.
"This is the main reason we come out and raise money," said Mark McConahy, 15. "We don't want anyone else to die from cancer."
His cousin Abe Ferguson, 13, ignored the sweat forming on his forehead as the relentless sun beat down at the park.
"We want to see a change happen," Abe said. "We don't want to see other people go through what we have seen when our family members were going through cancer."
Meagan Williams, also Sam's cousin and Graf's granddaughter, was beginning to glisten in the sun during her walk around the track with her cousins.
"We all think it's really important to bring awareness and raise money to find a cure," Meagan said.
Asked about their grandfather, all three teens began talking at once to describe his sense of humor, love of rhyming, caring nature and ease in making friends and conversing with anyone he met.
Julie Graf, Sam's aunt, said the team was formed 20 years ago in honor of Sam's short, yet impactful life.
"Relay for Life brings the community together to have a celebration of life and be with other people who have gone through the same things," she said.
More in Local News