Music therapy a different kind of help
Useful Resource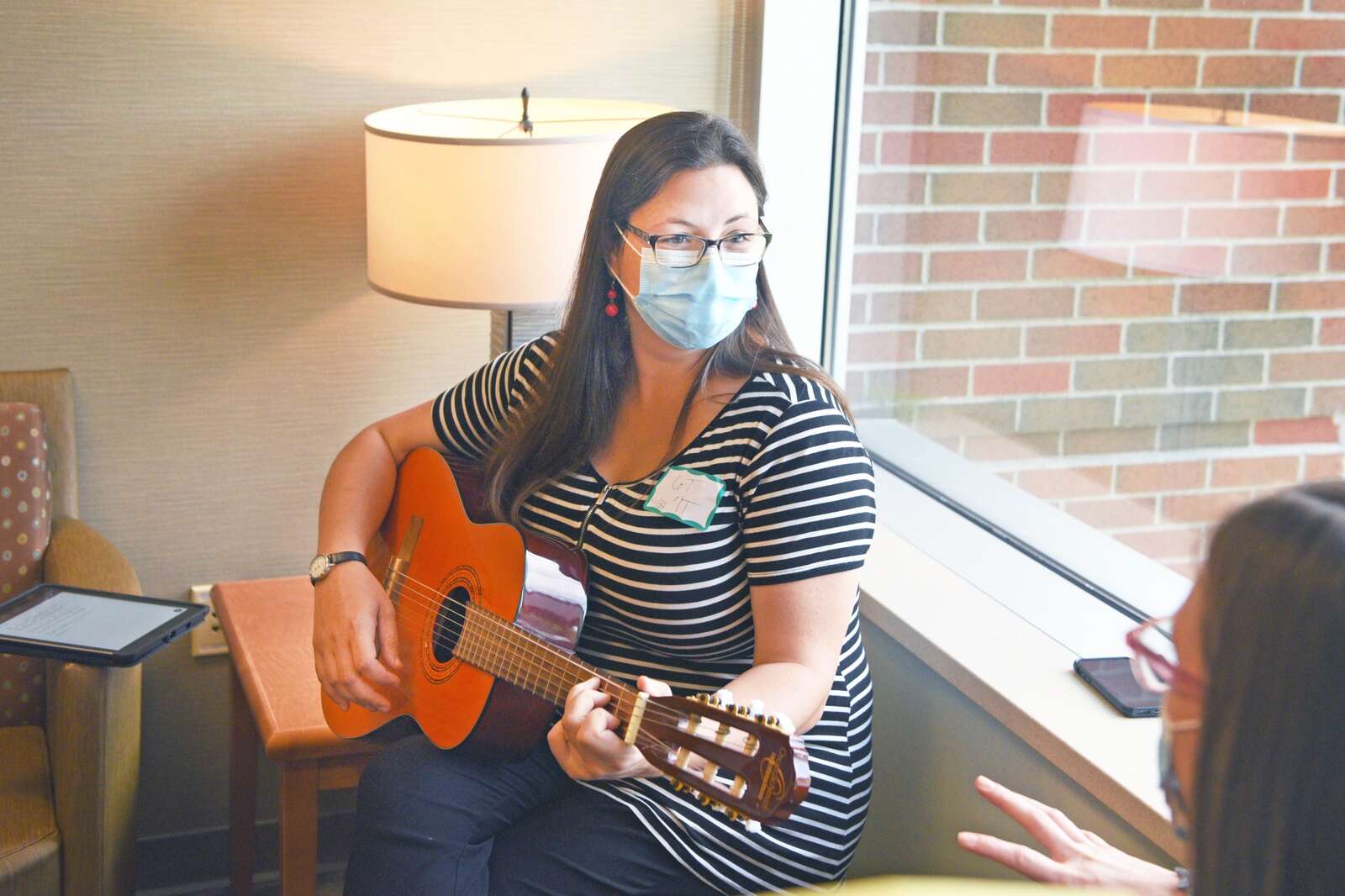 Nurses and health care professionals got a mini-concert Wednesday, which involved singing, head-bobbing and even a little "dancing."
The featured musician was Kate Cotter, a licensed music therapist who used an acoustic guitar and her singing voice to take the workers on a mental reprieve from their regular tasks in a short group session.
The audience, a group of nurses working on the patient floor at Butler Memorial Hospital, also got tips about how they could use music to stay grounded and present in stressful times.
"It's learning to practice a skill of being aware of your own breath, heart rate, how the chair feels below you," Cotter said. "It's taking what can be a very scattered mind, and you're learning how to use music for therapeutic goals."
Grant-funded sessions
According to Butler Health System's employee assistance program coordinator Jenna Rhodaberger, Butler Memorial Hospital was one of five hospitals in western Pennsylvania to receive the Hospital and Healthsystem Association of Pennsylvania's Music Therapy Collaborative Grant.
Rhodaberger said the $25,000 grant will fund music therapy for hospital employees through the end of the year.
Through the grant, Cotter will lead group music therapy sessions, but employees can also schedule one-on-one sessions for further support.
"If an employee finds it to be beneficial in a group setting, they can try it one-on-one," Rhodaberger said. "We also have a virtual option, and Kate recorded videos for Youtube that anyone can watch."
Cotter said music therapy sessions are not cookie-cutter, rather they are based around the needs of the employees and they can even vary depending on the practice of the workers she is meeting with.
Needed outlet
On Wednesday, the nurses grabbed tambourines and shakers and played along to songs Cotter played on guitar. Cotter also directed them through breathing exercises and some light stretches, which she said are simple ways to de-stress.
"When I go to a unit, and I can tell stress is high, those experiences are to help de-stress," Cotter said. "If what you need is to vent, process, talk about the heavy things going on, then we make space for that."
Other sessions may involve more interaction with employees. Cotter said several sessions she hosted during the music therapy pilot program had employees make up words to songs describing their feelings on stress and burnout. These sessions were particularly intense in times when the hospital was seeing a spike in COVID-19 patients.
"We were songwriting about all the difficult things they endured," Cotter said. "We did 12-bar blues where they were telling us like it is, and the staff had plenty of content for that session. They said things that were on their mind and their heart and needed a place to go."
Cotter said music therapy was a good outlet for health care workers during the coronavirus pandemic.
"The stress, anxiety (COVID) has caused and the ways in which our health care workers are called on to do things they have never done before, or things they have never done for this prolonged amount of time," she said. "Those sessions were really powerful, they were heavy because we were talking about what was going on."
Nicholas Stutz, a registered nurse at Butler hospital, said he enjoyed his first music therapy session with Cotter Wednesday, and added that he would like to attend more sessions when available.
Rhodaberger said the response to the program may prompt her and Cotter to try to renew the grant to potentially expand music therapy.
"We hope to keep it as a program for employees," Rhodaberger said. "It has been our plan to be accessible to everyone."
Registered nurse Cailyn Fry said she learned how to use a song as a "container," spending two to five minutes of just focusing on breathing and not thinking about work. She intends to use that tool now in the future.
A favorite song works as an ideal "container" because there is often limited time that can be set aside, according to Cotter.
Overall, Fry said she enjoyed the session.
"It's really nice ... We're definitely not used to having a few minutes to ourselves," she said.