Variety of options for those exploring cooking outdoors
As the dog days of summer approach, so does the peak season for grilling and cooking outdoors.
Since the start of the COVID-19 pandemic, preparing food outside for a backyard dinner has become even more popular, said Adam Martin, owner of Martin Sales and Service, a Butler fireplace, patio and grill store established in 1978.
"With not being able to travel and do vacations, and at one time being limited on where you could go to eat, it gives consumers another option to enjoy (with) their families on their outdoor patio," Martin said. "The last couple years, it has been growing for sure."
Cooking outside can provide a more authentic taste to food, along with an opportunity to spend quality time with friends and family, he explained.
"You can't mimic grilling outside with the smoking flavors you can get out of (it)," he said. "It's a more fun cooking experience for sure. After you prepare a meal for family or a friend, it's easier to entertain because it's easier to clean up —everything's outside."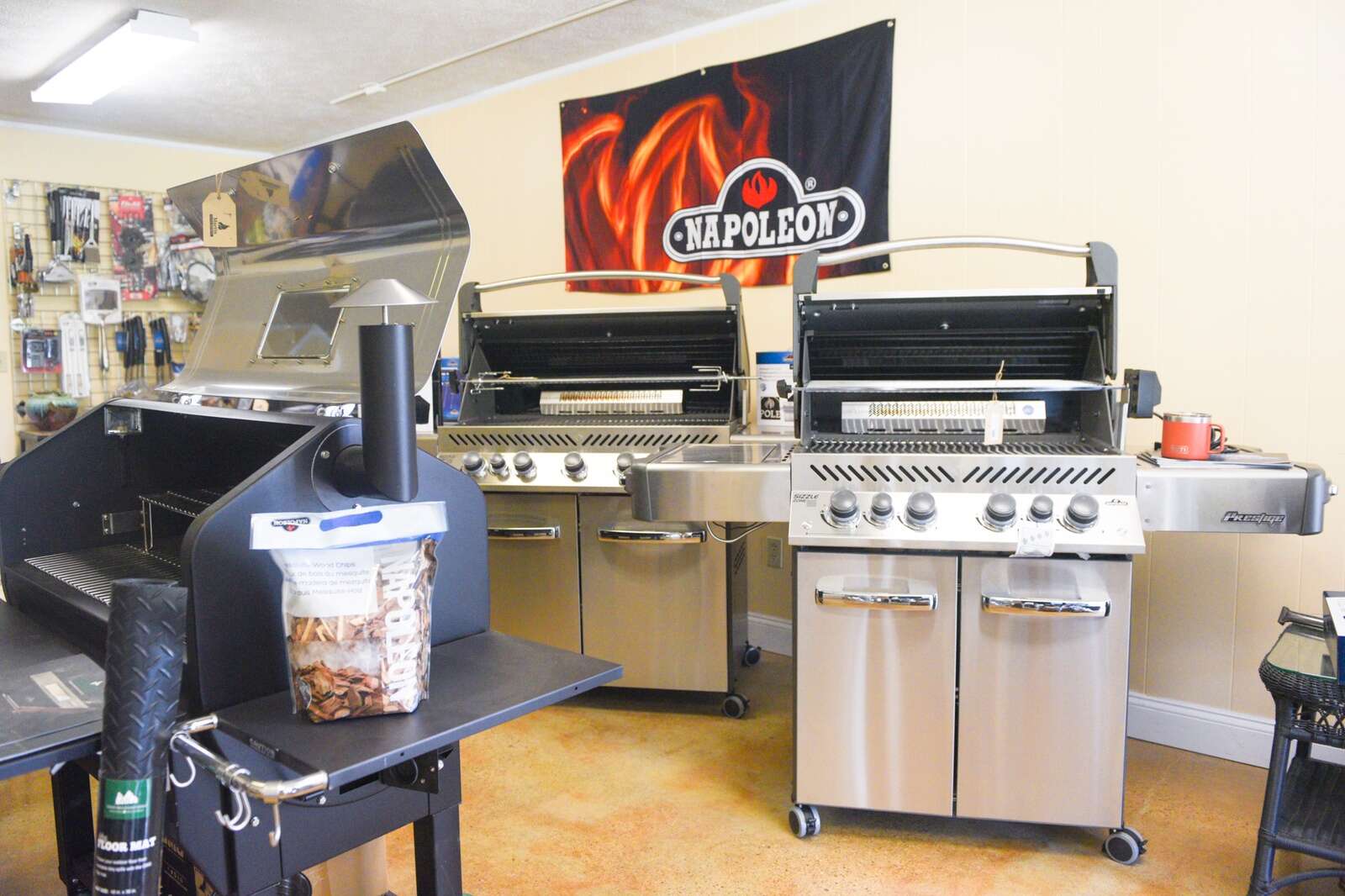 Butler County residents looking to explore preparing food outside have a variety of options to consider before choosing a grill, Martin said.
"They need to think about the type of food they want to get into grilling. That will help dictate the type (of grill) and fuel used," Martin said. "Some of my customers come in and say they're a hot dog, hamburger, chicken, steak type of person, and that's what they do, and a lot are looking for gas grills. But with Instagram and some of these new cooking shows, they're looking to do beyond what used to be considered your normal grilling food. That's where your natural charcoal grills and pellet grills come into play — they give you more versatility."
The three main types of grills — organic charcoal grills, wood pellet burning grills, and natural gas or propane grills — have different pros and cons, he added.
"The plus side of the gas grills is a lot of customers like to be able to turn a knob, click it on, and start grilling right away," he said. "It depends how it fits your family and the type of food (you want). I ask, what do you like to grill, and what do you want to start grilling maybe differently than what you have in the past?"
Outdoor environment
Martin Sales and Service also offers additional outdoor products for those looking to bolster their "outdoor room," including fire pits, outdoor kitchen structures, and poly lumber deck furniture.
"We do outdoor poly lumber furniture. It's made of the same stuff that a lot of decks are made out of," Martin said. "It can be left out all year round. That's why it's such a great fit for us in Pennsylvania, with all of the different weather variations that we get. Any of the hardware on it is stainless steel."
The furniture, made from recycled plastic, doesn't require storage during the winter.
"We find out that our consumers, including myself, that have this product, get a lot more use out of it," Martin said. "Number one, you don't have to take up space putting it away, and number two, it's out there all year long, so when you do have a nice day in the spring or fall, your furniture is out there, so you get the chance to use it."
The store also sells outdoor kitchen islands, that can have grills, smokers, refrigerators and sinks built in for ease of cooking.
"The sky is the limit anymore as to what you can build as an outdoor island kitchen," Martin said. "We (also) do outdoor fireplaces and fire pits. In western Pennsylvania here, those who invest in an outdoor patio or outdoor kitchen can enjoy it at minimum three fourths of the year, because we also provide heat sources to keep you warm."