Raider train keeps rolling
SV softball's 6-2 PIAA 6A tournament win hikes winning streak to 9
JACKSON TWP — Seneca Valley wasted little time getting started.
The Raiders tallied three runs in the first inning and four more in the second while coasting to an 8-2 PIAA Class 6A tournament softball win over Central Dauphin Monday on their own field.
"We only have three upperclassmen on our roster," Central Dauphin coach Sam Hartley said. "This was a good learning experience for us."
Seneca Valley has plenty of youth of its own — and it made its presence felt during the team's ninth consecutive victory.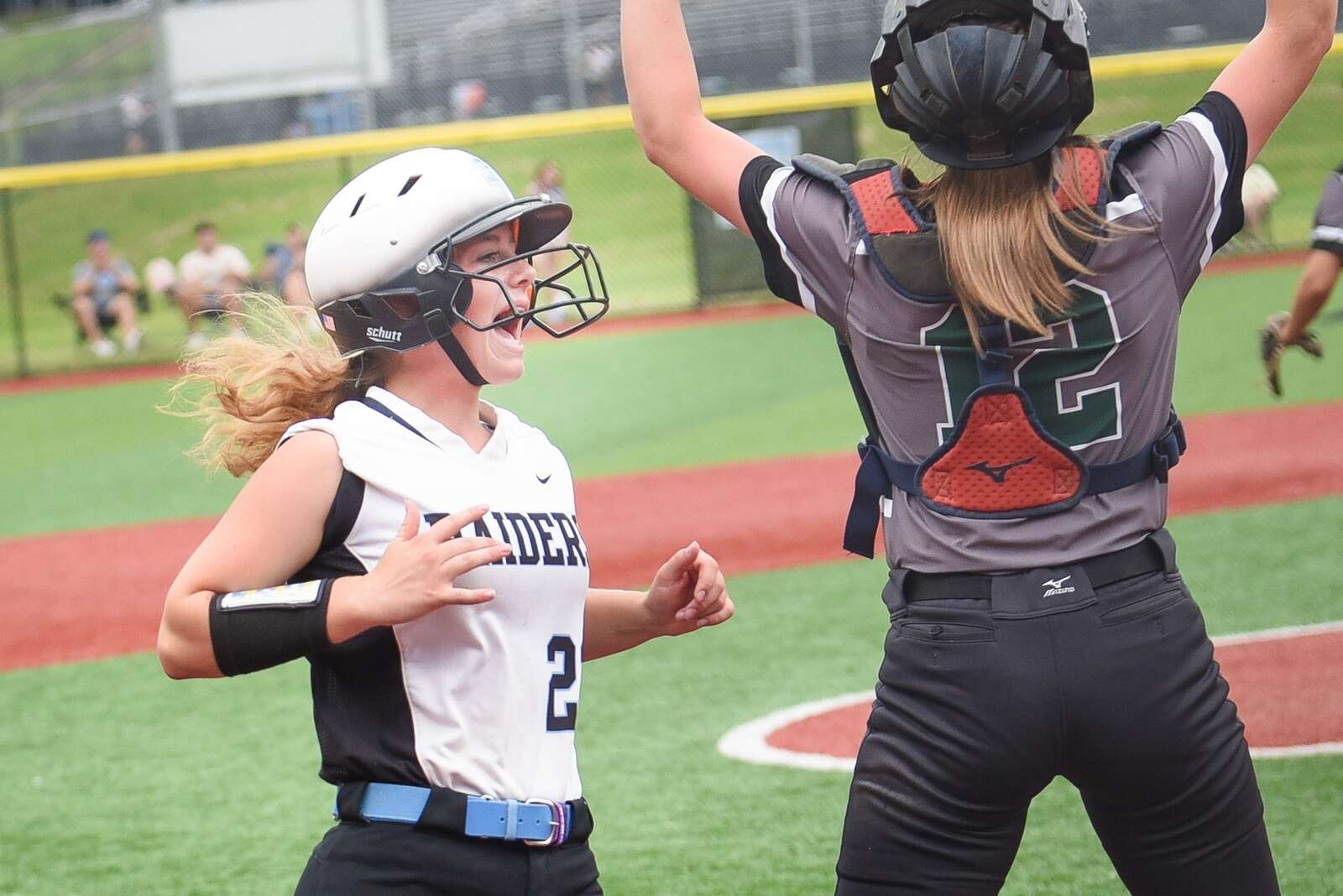 Freshman pitcher Lexie Hames struck out nine and scattered seven hits in tossing a complete game. Freshman third baseman Bella Gross had a pair of singles and two RBI, including a two-out run-scoring single up the middle in the first inning that got the Raiders (14-6) on the board.
Hames had an RBI double — as did Maddie Gross — during the Raiders' four-run fourth inning.
"I'm always nervous before a game and at the start of the game," Hames said. "Getting all of those runs early drove a lot of those nerves out. I was able to relax from there."
Seneca Valley collected 12 hits Monday, but not in its usual fashion. The Raiders bunted for three singles and added another infield hit.
Kara Pasquale bunted for a hit in the first inning after Hayley Walter led off with a single to right. Mia Ryan laid down a sacrifice bunt to move the runners up. Maddie Gross was intentionally walked to load the bases. After Hames hit into a force play at the plate, Bella Gross delivered her RBI single. A second run scored on an errant throw during the play.
Hames' courtesy runner, Abbie Winkle, scored on a wild pitch for the third run.
"We haven't done much bunting this season, we've primarily been swinging away," SV coach Marlesse Hames said. "For the state tournament, I wanted us to work on our bunting. We've practiced it hard the last few days.
"It can be hard to bunt on artificial turf because the ball tends to keep rolling. We did a good job with our bunts today."
The Raiders forced the Rams (16-8) to replace freshman starting pitcher Stella Casper with senior Emma Wonsick during the four-run second. Wonsick allowed only three baserunners the rest of the way — consecutive singles by Maddie Gross, Lexie Hames and Bella Gross that plated a run in the fifth.
"Their second pitcher was slower and nobody pitches slow in our section," Coach Hames said. "The change of speed threw our hitters off."
Hartley said his team changes pitchers often during a game.
"I like to switch up speeds. It's effective and it was today," the Central Dauphin coach. "We just fell behind by too many runs before we had a chance to do that."
Maddie Gross doubled, singled and scored three runs for the Raiders. Ryan hit a sacrifice fly to deep center that runners Lina Chardella and Walter scored on, the latter from second base.
"That's our quickness," Coach Hames said. "We have good baserunners."
Pasquale, Lexie Hames and Chardella joined Bella Gross with two hits each.
"I was only pinch-hitting early in the season," Bella Gross said. "I'm glad I've been able to work my way into the lineup. My sister (Maddie) gives me tips at the plate. I just try to hit the ball hard."
Central Dauphin won the PIAA 6A championship in 2019 and has won the District 3 title five times in the last 10 years. The Rams were third in the district this season.
Seneca Valley will play Quakertown — a 2-0 winner over Northampton Monday — in the quarterfinal round Thursday at a site and time to be determined.
Central Dauphin0000020 — 271
Seneca Valley 340010x — 8120
W: Lexie Hames 7IP (9K, 3BB). L: Stella Gasper 1.2IP (0K, 1BB)
Central Dauphin (16-8): Mackenzie Fisher 1B, Meghan Fisher 1B, Emma Wonsick 1B, Maddie Paul 2B 1B RBI, Nikki Sellers RBI, Stella Gasper 2-1B
Seneca Valley (14-6): Hayley Walter 1B, Kara Pasquale 2-1B 2-R, Mia Ryan 2-RBI, Maddie Gross 2B 1B RBI 3-R, Lexie Hames 2B 1B RBI, Bella Gross 2-1B 2-RBI, Lily Hicks 1B, Lina Chardella 2-1B
Thursday: PIAA 6A Quarterfinal-Seneca Valley vs. Quakertown, site and time TBA
More in High School