SV's Yurich headed to Naval Academy
Raiders' 3-sport athlete will compete there in track and field
JACKSON TWP — Tyler Yurich was sidelined, not sidetracked.
The 2022 Seneca Valley graduate and three-sport athlete recently accepted an appointment to the U.S. Naval Academy, where he will compete on the Academy's track and field team as a sprinter and long jumper. He earned an appointment to West Point as well.
"I had offers to do track at both and, obviously, the quality of education is very high at both," Yurich said. "Annapolis (Md.) is closer for my family to come watch me compete. Everything else was pretty much equal.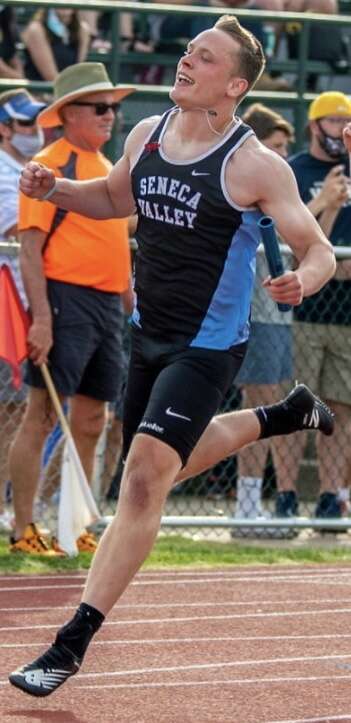 "My family does not have a big military history. This is my choice. I'm starting a new path."
Yurich plans to study electrical engineering. He earned a 5.0477 grade point average in high school, while competing in football, wrestling and track and field. A linebacker-running back for the Raiders, Yurich saw his 2021 football season end early after he suffered a torn ligament in the top of his foot.
The injury cost him his senior wrestling season as well. He was a 215-pound grappler for the Raiders.
"I was never an outstanding wrestler, but I loved my time on the team," Yurich said. "We had a tremendous season my junior year and just being part of that ride was fun. And when it came to my physical conditioning, there was nothing like wrestling. It impacted me as an athlete."
Still recovering from his injury, Yurich did not hit full stride this spring until late in the season. He wound up placing sixth in the 100 meters at the PIAA Championships, running the event in 10.94 seconds during prelims. His best time as a junior was 10.71.
Yurich's 10.94 was second fastest in Butler County this year, trailing only North Catholic's Trevor Paschall on the Butler Eagle Honor Roll. His long jump of 21 feet, 8.5 inches was fourth-best in the county this year.
"I couldn't do any running for seven or eight months," Yurich said. "I fell behind."
Yurich won the WPIAL 100-meter title his freshman year. He picked up two medals at the state meet, helping Seneca Valley's 4x100 meter relay place last year.
"The injury set him back, but Tyler just kept coming," SV track and field coach Ray Peaco said. "He's one of those guys who led by example. Nobody worked harder. His quickness was incredible ... a 215-pound wrestler and a sprinter? He is an extremely versatile athlete."
Yurich had collegiate track offers from Nebraska, Butler and Rice, along with a football offer from Saint Vincent, to go with his appointments to the service academies.
Navy's men's track team has won eight consecutive Patriot League championships.
"They've been a dominant program and I'm anxious to see how I fit in there," Yurich said. "I'm hoping to run the 100, 200, do the long jump, even run some relays because that's the most fun event in track."
A four-year letterwinner at Seneca Valley, Yurich was described by Peaco as "one of those seniors who had a presence in the way he conducted himself. He was never arrogant, always humble. There are certain kids who come through your program that you're genuinely gonna miss ... Tyler Yurich is one of those kids."
At the conclusion of home meets at NexTier Stadium, Yurich went through the stands, helping to pick up garbage left behind by patrons.
"He made sure that stadium was spotless before he went home. I mean, who does that?," Peaco said.
Yurich said he's just heeding the way he's been coached.
"The coaches always taught us to leave things better than how you found them," he said. "Keeping the stadium clean, to me, is being representative of my team. I like to leave things in a positive light."
Yurich will attend a seven-week U.S. Naval Academy boot camp later this month. After completing his four-year career, he will serve at least five years in the Navy.
"They are getting a great, great kid," Peaco said.
More in High School