The beat goes on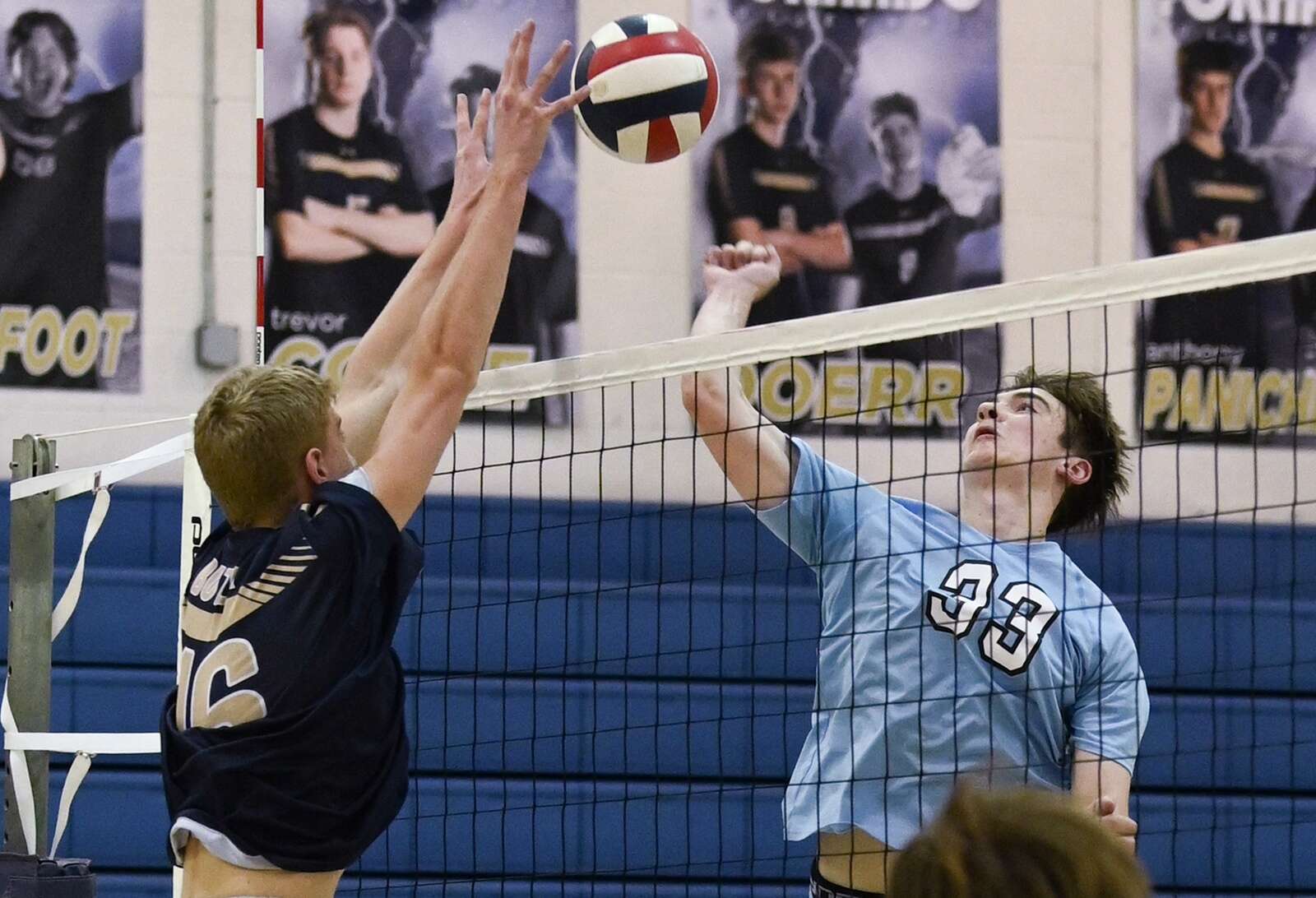 SV volleyball avoids letdown, sweeps Butler
BUTLER TWP — The level of emotion was high in the Seneca Valley boys volleyball team's previous game.
The Raiders defeated North Allegheny, 3-1, Tuesday in a match in which every point was followed by raucous cheers and the Tigers saw their 75-match winning streak snapped.
Thursday night, the Raiders visited Butler to close out the regular season in a laid-back atmosphere.
But it didn't bother SV, which scored a 3-0 win over the Golden Tornado by scores of 25-17, 25-19 and 25-18.
It was a much closer match than the first time the teams met this season, a 3-0 sweep for the Raiders April 19 when Butler scored a total of 34 points.
"They always play good in this gym, whether it's boys or girls. I knew we were in for a fight," said Raiders' coach Brett Poirier, also the head coach of SV's girls squad. "I told our guys that they were going to play hard."
The win clinches for the Raiders (12-1, 11-1) a share of the Section 2-3A championship. NA also finished 11-1.
"Our confidence level right now is at one thousand percent," said SV senior Coleman McDonough. "We won the State College Tournament, beat NA ... we're peaking at the right time."
Max Gianneski tallied three kills in the first set to keep Butler close, but Dawson Ward was strong at the net late to help the Raiders prevail.
Butler trailed the second set 16-13 before SV pulled away.
Dawson Ward had 11 kills for the Raiders.
"We played well," said Butler coach Lew Liparulo. "Our guys gave what they had to give and this was a good experience for them, to play at this level."
But the Tornado (8-10, 5-7) were shorthanded, playing without a pair of seniors — Kaleb Proudfoot and Tyler Figlioli — due to injuries.
"That's big, not having those guys," Liparulo said. "Tyler has been our libero for most of the season and Kaleb is one of our big hitters. I hope they can get back for the playoffs, not just for the team's benefit, but their own benefit as well."
Coleton Welter led Butler with seven kills, Trevor Coyle had 10 digs and Cam Ray 14 assists.
The WPIAL postseason brackets will be released Friday and the Raiders are the favorites to earn the top seed.
Seneca suffered four total losses last year, all of them coming against NA, including matchups in the WPIAL and PIAA playoffs.
"We're healthy right now and entering the playoffs, that's the most important thing," said Poirier. "We got everybody in tonight and we just have to keep the momentum going."