Rain forces tea party to relocate
CRANBERRY TWP A mad tea party turned into a mad scramble Friday night as weather forced the planned outdoor event indoors.
Hostess Erin MCurdy had planned to have the Saturday tea party in the yard and around the pool of her home on Plains Church Road, but the unrelenting rain forced a last-minute move to a vacant rental house next door.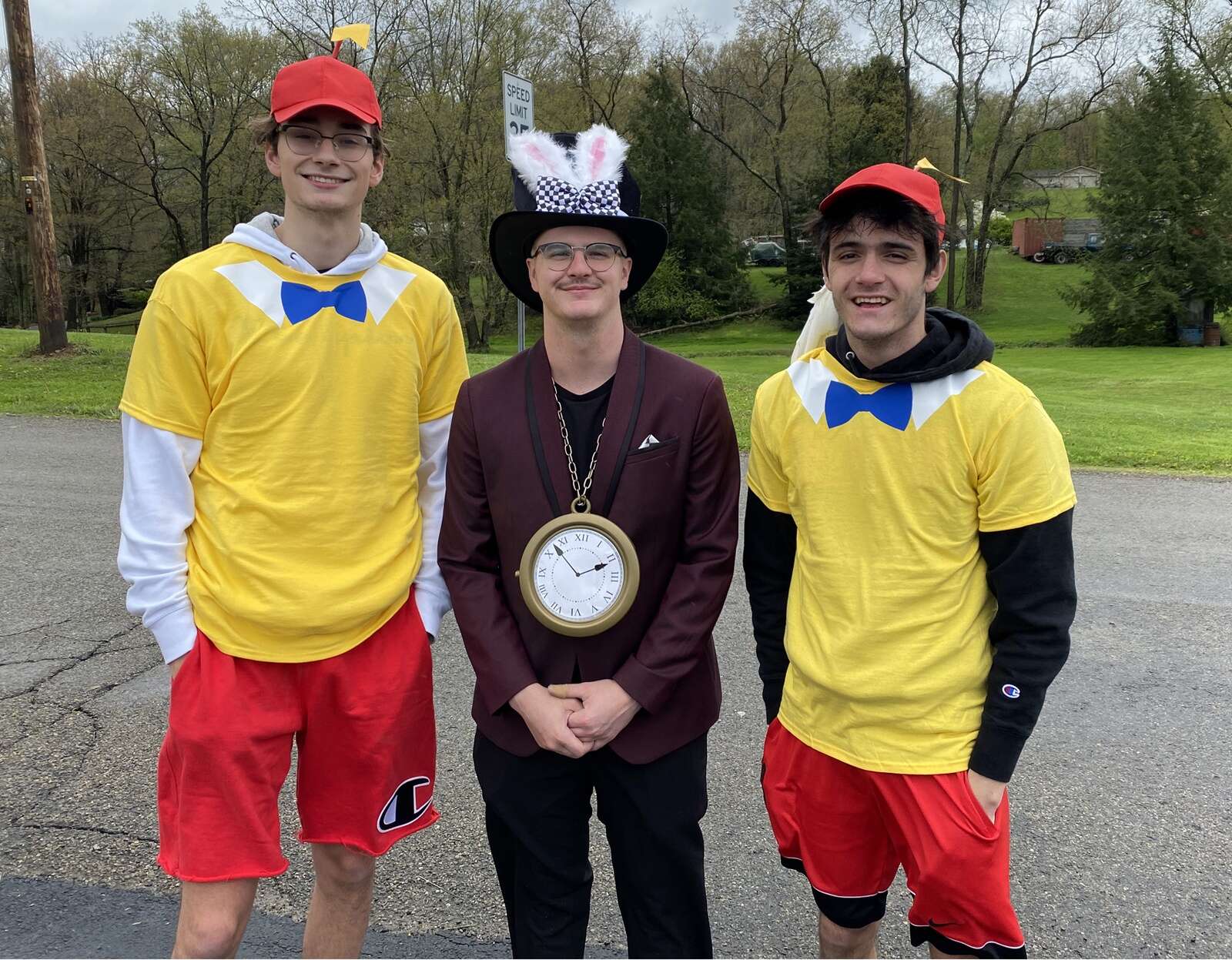 Her friend, Sherry Jo Matt, of Wexford, said the party would happen rain or shine —even if it meant shifting to a new location the tables, chairs, food and vast collection of (breakable) tea cups, saucers and teapots that had been amassed to accommodate 80 guests.
McCurdy said 20 people worked from 2:30 to 10:30 p.m. Friday to get the location switched.
"This would not have come off without the dedication and support of all my friends. We had to order pizza twice because we worked so long," she said.
Her son, Wes McCurdy, who directed parking dressed as the White Rabbit from "Alice in Wonderland," said, "It was all hands on deck. It would have been nice to be outside, but you do what you can."
Tiffany Deramo, owner of Top Tier Serving of Pittsburgh, was hired to serve mimosas and three courses at the tea. Her servers moved up and down stairs and through various rooms setting out food for guests in different rooms.
The event also served as a coming-out party for Nicole Bracken, owner of Considering Flowers in Wexford. At least 10 people were wearing the fascinators she had made for the tea party. And she'd made 100 of the headgear for Kentucky Derby-goers in Louisville (the race was scheduled for later in the day Saturday).
"I was a floral designer, but I made the switch when the industry was shaken up by the pandemic," Bracken said. "One of my friends, a well-known equine artist, wanted me to make her a fascinator." Bracken did so.
When one of her creations was posted on Instagram, that led to orders and a new line for Bracken. She said a fascinator can take up to several days to make depending on size.
Chrissy Finnell, who was handing out numbers to be placed on raffle tickets for gift baskets, said the change in locations didn't hurt attendance.
"Eighty is what we are looking at. I would be happy if it just stopped raining, but if we go to a teahouse, it's just as cramped," she said.
Kathy Dressler, of Cranberry Township, and Sarah Shipley, of Evans City, took the improvisational relocation in stride. After all, they had organized the gift basket raffle and gathered 45 donated baskets from companies and individuals in only two weeks.
The money collected is being donated to Matt's charity, Stop The Judgment Project, dedicated to ending the stigma, shame and judgment surrounding addiction. Matt started the organization after her daughter died of a fentanyl overdose in 2020.
McCurdy said she decided in February to host the tea party and started collecting teacups, teapots and settings.
She envisioned the tea party — taking place as it did the day before Mother's Day — as an appreciation of women and hopes to make it an annual event.