Mars' McLaren shakes off rough start, stymies Hampton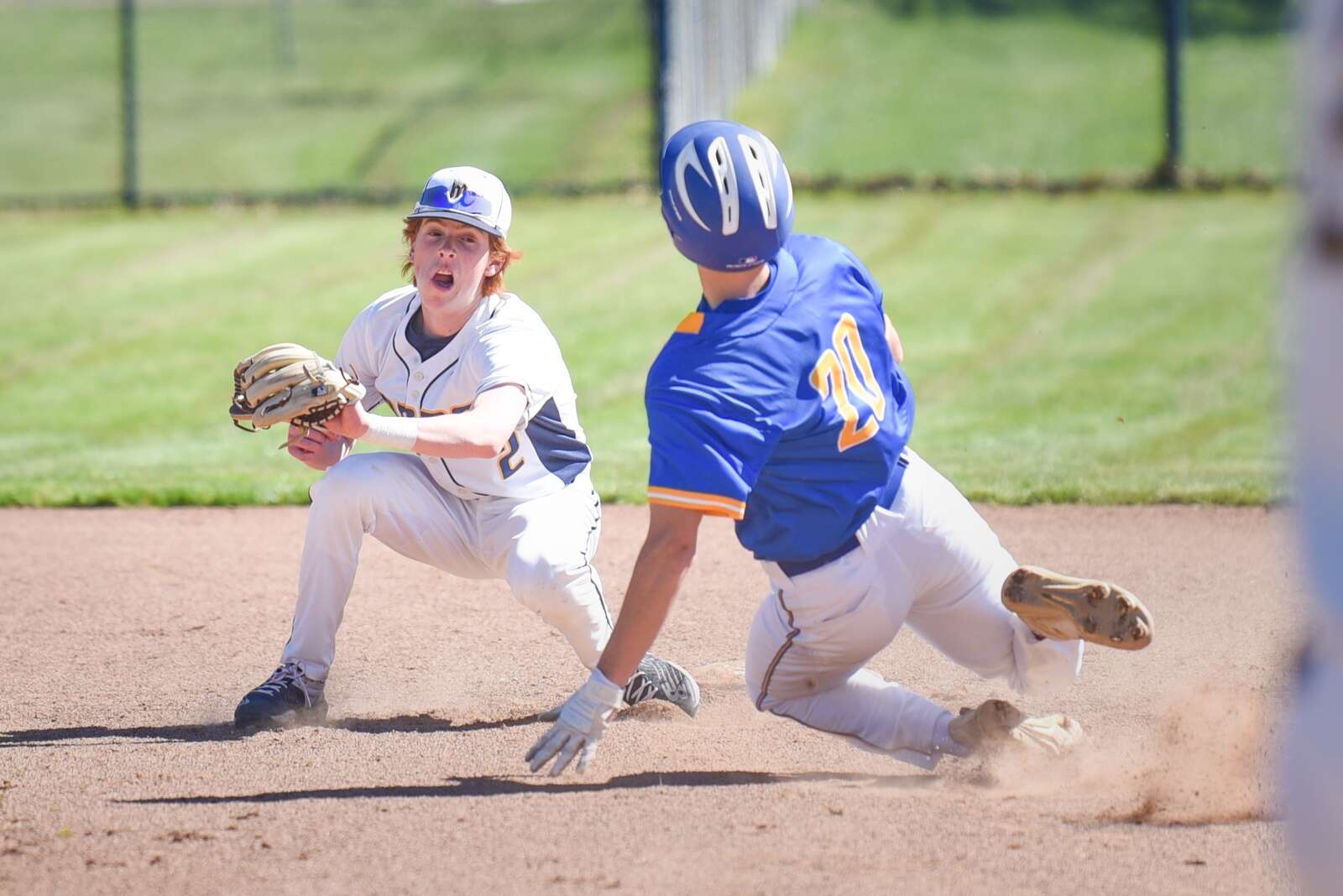 Anger Management
ADAMS TWP — Scoring two runs in the first inning was a good start for Hampton's baseball team, but it only seemed to anger Tom McLaren.
"I feed off of competition, the energy. That's me," said Mars' junior pitcher. "People tell me I pitch better when I'm angry."
That was certainly the case Monday afternoon.
After allowing two runs to the Talbots, McLaren allowed just one baserunner over the next 4 2/3 innings, sparking the Planets to a 7-4 home win that clinches at least a share of the Section 2-5A title.
McLaren appeared headed for a complete game, but with two outs in the seventh and the Planets leading 7-2, allowed back-to-back singles to Luke Staggers and Cole Lux before walking Adam Dembowski to load the bases.
Jackson Fox came on in relief and after a throwing error that allowed two runs to score, got Eric Weeks to fly out to end the game.
Mars (13-4, 10-1) can win the crown outright with a win Tuesday at Hampton.
"Our goal is to make a deep run in the playoffs and winning the section is part of that," said Mars coach Jason Thompson.
The top of the first frame was a bizarre one for McLaren and the Planets. With one out, Lux sent a grounder up the third-base line. Mars' Shane Klinefelter appeared to field the ball in foul territory, but it was ruled fair and resulted in an infield single.
McLaren hit Dembowski with a pitch and walked Cam Marshalwitz. A fielding error allowed one run to score and another walk forced in a second run.
Thompson believed McLaren would turn things around.
"His approach when things aren't going his way, he dials in and is able to focus even more," he said. "It allows him to be emotional, but not pitch with emotion. It's a testament to him."
McLaren set the Talbots (10-6, 9-2) down in order in the third, fourth and fifth innings, striking out the side in the fourth, after which he pumped his fists and yelled, "Let's go!"
His teammates responded with a pair of runs on a wild pitch to tie the game the next half inning, but the biggest blows came a frame later when Trey Wagner belted a three-run home run and Nate Leshinsky followed with a solo shot to give Mars a 6-2 lead against Hampton starter Ryan Apaliski.
"Last year, we broke the program record for home runs in a season. It was 20-some," Thompson said. "Those two today were our first ones of the season, but it's a big moment for those guys ... hitting a home run in such a big game in front of our fans."
McLaren, who struck out nine and walked three, stranded two runners in the sixth after surrendering a pair of two-out singles to Eric Weeks and Bucci.
"The guys behind me are going to make more plays than they miss and I knew we were going to win today from the start," said McLaren. "I threw my change-up five times today and got a swing and miss on each one. My curveball was my out-pitch."
"We weren't ready to hit today, watched too many fastballs go by," said Hampton coach Kellen Wheeler, whose team can still share the section title if it beats Mars in the rematch. "It's up to the guys. If they show up to play, we can do it."
Hampton 200 000 2 — 4 6 3
Mars 000 241 x — 7 6 1
W: Tom McLaren 6.2 IP (9K, 3BB). L: Ryan Apaliski 5.2 IP (5K, 3BB).
Hampton (10-6, 9-2): Luke Staggers 2-1B R, Cole Lux 2-1B 2R, Anthony Bucci 1B RBI
Mars (13-4, 10-1): Trey Wagner HR 3RBI, Nate Leshinsky HR, Shane Klinefelter 1B RBI
Tuesday: Mars at Hampton
STORIES YOU MAY ALSO LIKE