Autism spectrum-friendly Open Mic Night lands in Mars Area
ADAMS TWP — Mars Area School District's special education students and their families got a chance to shine onstage Wednesday night at an "Autism Open Mic Night" at the high school.
The event invited students and adults on the spectrum to play instruments, sing karaoke, and have fun performing onstage, with the help of musicians and staff from Band Together Pittsburgh, a nonprofit dedicated to providing programs, experiences, and vocational opportunities "to enhance the lives of those on the autism spectrum," according to their mission statement.
"Music has the proven capacity to enhance social interactions, build and develop communication skills, and improve motor/sensory, emotional, and academic/cognitive functioning," the organization's website explains. "Plus, it's fun!"
John Vento, co-founder of Band Together Pittsburgh, explained that the Autism Friendly Open Mic Night events, which are put on by the organization across the region, help create a chance to socialize for people with autism and intellectual disabilities.
"The music is just the conduit to bring people together," he said. "It's almost exactly like you would see if you went to a bar or club for an open mic. We set up instruments, a sound system, speakers, and all that stuff, and people come up and they perform. This is designed specifically for people who are on the spectrum, or other folks with intellectual disabilities. (It's) about the acceptance, and the support and the social aspect."
The events also allows families of people with autism or other disabilities to connect, he said, and some families have attended multiple open mic night events.
"Families are a huge part of it. They get to know each other, communicate and sit with each other, and find out, 'Those are the same kind of struggles I deal with, with my daughter or my son,'" Vento said. "The family interaction is very powerful."
Vento said more than a hundred people were expected to attend the event, which was open to the public as well as to families in the school district.
"Tonight is somewhat of a special popup," he said. "The RSVPs were pouring in."
Band Together Pittsburgh also recently opened up its Clubhouse, which operates out of Moondog's Pub in Blawnox, last weekend, cofounder Ron "Moondog" Esser said. The clubhouse includes karaoke and instruments, and will host future events.
"The pandemic really had us put the brakes on, but it's just getting bigger and bigger and bigger," Esser said. "We have more and more demand."
Chance to shine
Travis Mineard, Mars Area director of Special Education, said the event is a new addition for the district.
"This is the first time we've ever done this, so we're just looking forward to seeing how it does," Mineard said. "We're hoping that if it's a success, this will be a yearly event with our families."
Darla Efremenko, whose son, Cory, 14, has participated in Band Together Pittsburgh for the past three years, said the program is perfect for her family. Cory attends North Allegheny School District in Allegheny County.
"It's always been hard trying to find an activity where he fits in," Efremenko said. "At Band Together, we found that program."
Band Together Pittsburgh board member Justin Capozzoli, who is on the spectrum himself, ran sound for the event Wednesday night.
During earlier parts of the pandemic, he said, Band Together Pittsburgh operated a virtual version of its open mic nights, where participants submitted videos to be edited into a presentation, and also hosted some outdoor events.
Capozzoli has been involved with the group since 2018. Alongside performing and running sound at events, he teaches other participants how to DJ.
"I get to do something I love, and I'm helping people at the same time," he said. "It's given a lot of people a safe space to try out whatever they have in their hearts."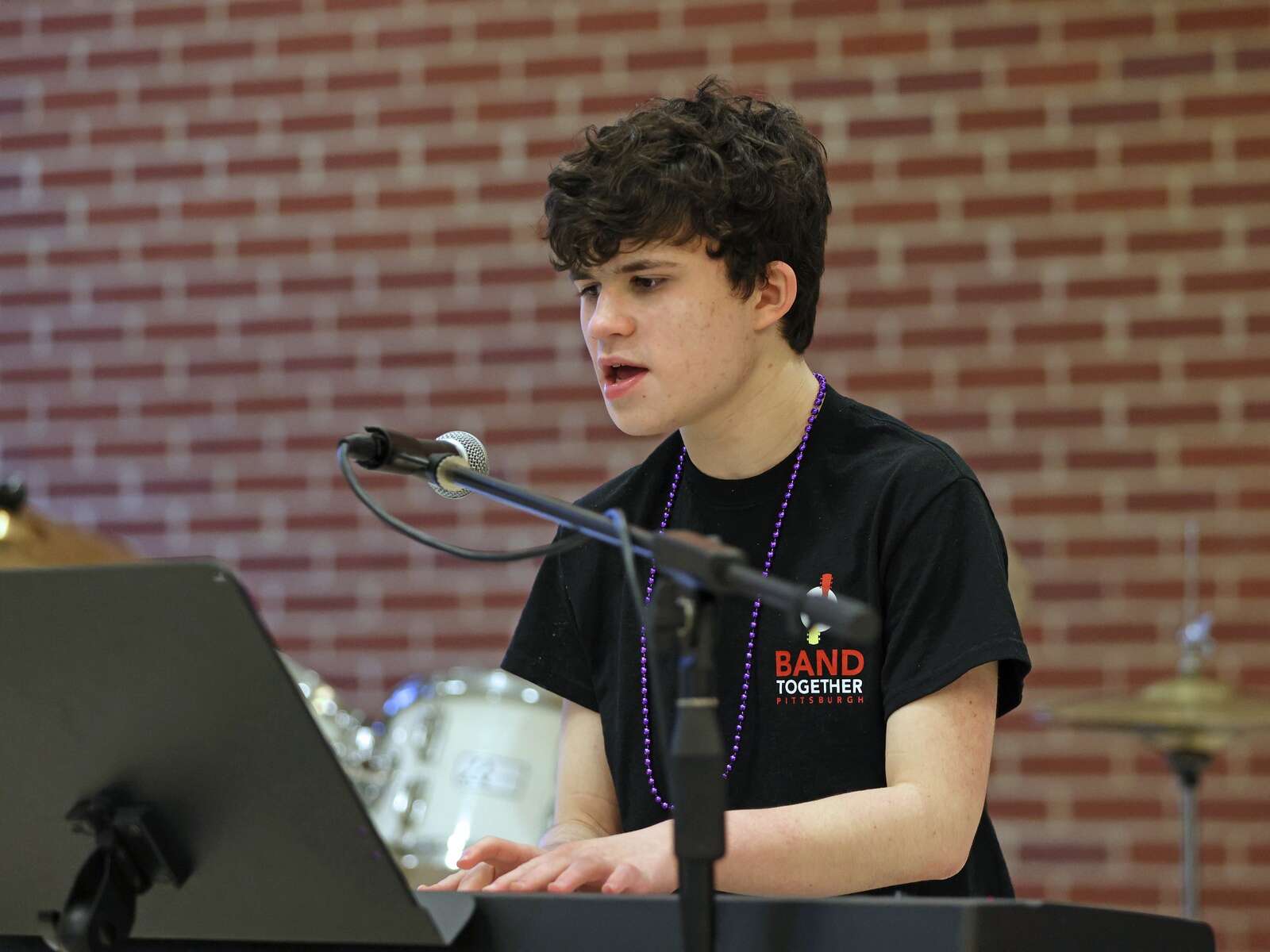 More in Education