STEAM classes bring excitement to students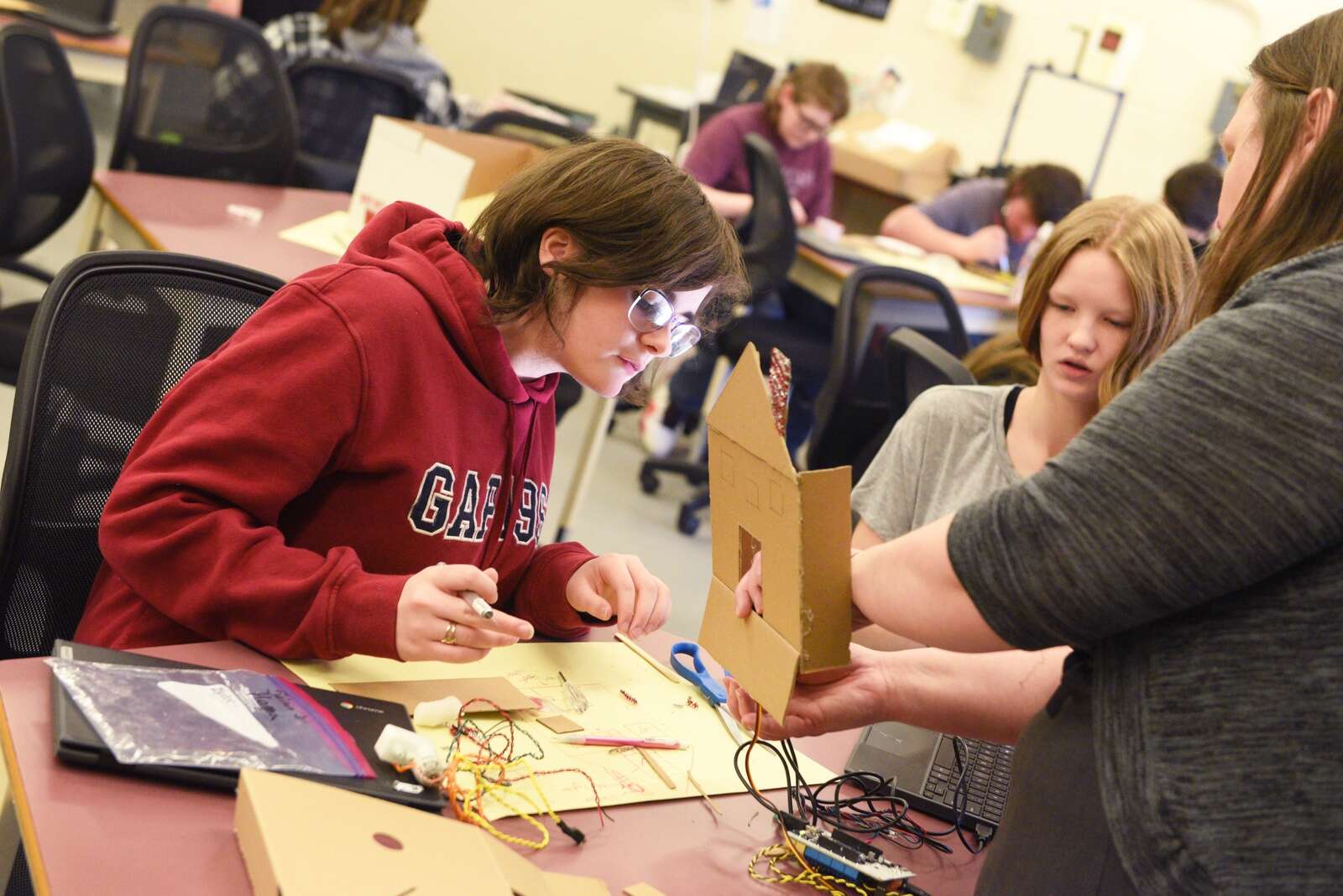 FORWARD-THINKING LEARNING
Across Butler County classrooms, schoolwork has rocketed into the future.
Hands-on tech projects, including working with robots, 3D printers, laser engravers, drones and digital design, are standard fare in Science, Technology, Engineering, Arts and Math (STEAM) courses.
Karns City Area School District STEAM teacher Danielle Lemmon focuses mainly on computer science, but teaches a variety of classes, including computer programming, AP Computer Science, 3D Printing and Web Design, to students ranging from grade seven to grade 12.
"We start with using Scratch, which is an online programming site, done through MIT, to teach them the basics of programming," Lemmon said. "They have to use the skills to create some cool programs. After we get through Scratch, we do some 3D printing. I teach them 3D design, and we use the 3D printers to print their actual creations."
Through interactive projects, Lemmon works to increase the enthusiasm around science-related education.
"When I took computer science, even in college, it was boring," she admitted. "You didn't see the excitement that now you can see, because there's more of it available, there's more kids taking it, and the creativity, because there are more students, is all there."
Lemmon is one of many STEAM educators at public schools across the county making science education more engaging and more accessible to young people of all ages.
STEAM classes combine aspects of a number of more traditional school subjects, and encourage students to work together on projects that can often have relevance to future career paths.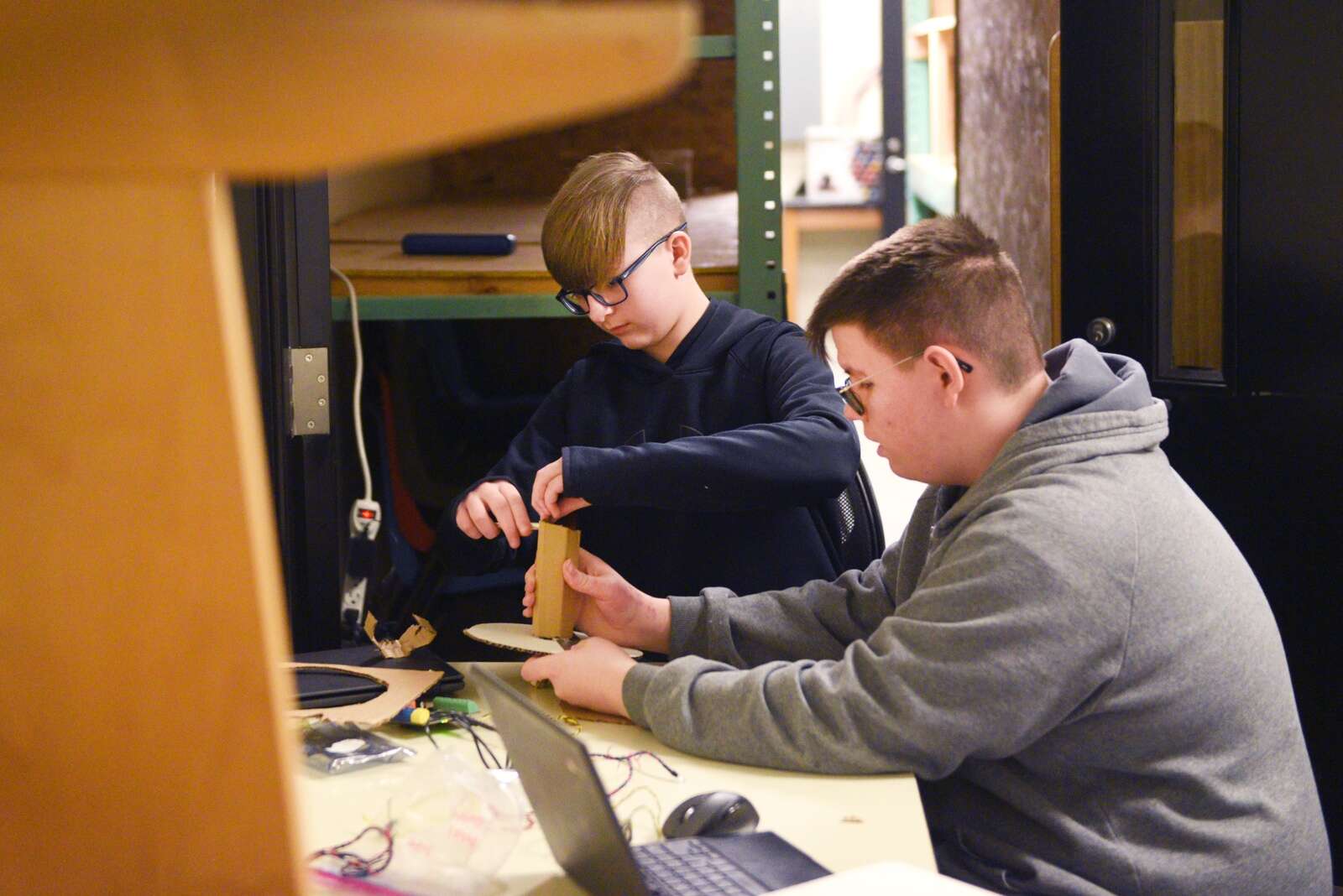 Chance to explore
Julie Hopp, Butler Area School District director of curriculum, instruction and professional development, explained the opportunity to explore is popular with students.
"Students usually overwhelmingly love STEAM, and the concepts that are involved with STEAM, and the hands-on piece that is always involved with STEAM," she said. "They really enjoy it. They talk to their parents, and they share that with their teachers. It's kind of written all over their faces when they enter the STEAM labs that they enjoy that specials (weekly) day that they have STEAM."
Butler Area School District's Framework for Accelerating Learning takes STEAM into account as a way to strengthen the relationship between students and their education, Hopp said.
"One of the ways we know to increase that relationship with school is to engage students, and have engaging things for them to do," she said. "That's where STEAM is front and center."
Butler Area uses a variety of STEAM tools in its courses, including robots and Makey Makey science kits, and plans to incorporate more moving forward.
"At our sixth-grade level, we are switching to upgrading our robots," Hopp explained. "They have always done robotics in STEAM, but they are upgrading to the VEX robots, and we're excited about that."
Career prep
Eric Beveridge, Butler Area Senior High School teacher, who teaches computer-aided drafting and engineering electives along with metal shop classes, incorporates "practical applications" of math and science into his curriculum.
"It's difficult to pigeonhole one math curriculum, because I have a lot of different levels of kids, but we do a lot of geometry," he said. "The big interaction is with more of the physics stuff. I try to incorporate some iteration of physics into every project. I try to bridge that gap of math and science into electives and engineering."
Beveridge's courses are attended by a variety of different students, not only those who are interested in a career in engineering, he said.
"I get a lot of overlap," he said. "The three big groups I get, is kids who know they want to be engineers, I get kids who think they might want to be engineers or architects, and kids interested in more of the manufacturing fields, so they're trying to get the design end of it, so that when they get out in the workforce, they can have a bigger impact."
Beveridge's STEAM classes incorporate preparation for careers, he explained.
"Everything we do, we use all software that is used in universities and industry," he said. "We do a lot of problem-solving activities, real world problem solving stuff, that they would see in college or in their careers. Everything we use is industry based."
Expanded interest
At Karns City, the STEAM program has expanded significantly since its creation, Lemmon said, and has worked to reach out to wider variety of students.
"One of my big drives is that we have a equal female and male population in all courses," she said. "The first year that I was given the Computer Programming 1 course, which was six or seven years ago, there were only five young gentlemen in it. The next year, we grew the program to 30 students."
Several of Lemmon's courses received a diversity award from the College Board for bringing girls and underrepresented groups to the table. Adding the "arts" portion into STEAM can help make it more accessible, she said.
"By adding in the art aspect into STEAM instead of it just being STEM, (it helps) explain how computer programming, computer science, and STEM can fit into just about every field," she said. "It pulls all students in, instead of just one portion."
During coding projects in Lemmon's classes, students also build teamwork skills. Her students use "paired programming" techniques, meaning they switch off on typing and proofreading on a timer that sounds on set intervals in classes.
"What's neat with that is when one student will raise their hand and call me over, I'll flip a coin and decide who I am going to ask," she said. "Both partners need to know what that question is before I answer the question."
Karns City recently received a $10,000 donation from petroleum refinery HollyFrontier in Petrolia to expand its STEM program. Lemmon said she asked students for input on what new materials they would be most interested in purchasing with the donation.
"I think it's really important to gauge the students' interest before large purchases are made and before curriculum is decided," she said. "That way, you're always focused on what their interests and needs are."
Starting early
At Mars Area School District, STEAM teacher Colleen Hinrichsen, who works with elementary school students, starts the learning process early. Working with limited time, she often spreads projects across multiple class periods when students come in weekly.
"We do a lot of collaborative projects, but the cool thing we started this year was having students work on projects across different classes," she said. "One would start the project, and the next might read notes from the class before. It's kind of cool to have them actually using those collaboration skills."
The practice helps mimic the "commenting" process involved in computer science, and applies it across further contexts, she said.
"When I do teach code, and I talk about 'commenting,' they think the character on the screen should be saying something," she said. "When doing that for other activities, I want to transfer those skills instead of having it be something that just happens during coding."
STEAM projects also give her students the chance to build on their potential mistakes, Hinrichsen said.
"Sometimes students start doing one thing, and it doesn't turn out at all like they expected .They want to make something really grand, but it's a little more difficult when they first start," she said. "I try to encourage them, especially on the computer when you can make a copy, to let things be how they're meant to be."
She described a recent project, in which a student was trying to make a football, and ended up turning their design into a one-eyed alien.
"It's definitely something where students can let their mistakes turn into their masterpieces a little bit," she added.
Students' projects don't all look the same, and children bring their creativity to the table, Hinrichsen said.
"It's cool for students to see how STEAM can be in whatever their passions could be," she said. "I think the arts in this case could be wherever students are passionate —that's what the A stands for, for me."